Does your family need assistance? 2-1-1 is here to help. to contact us.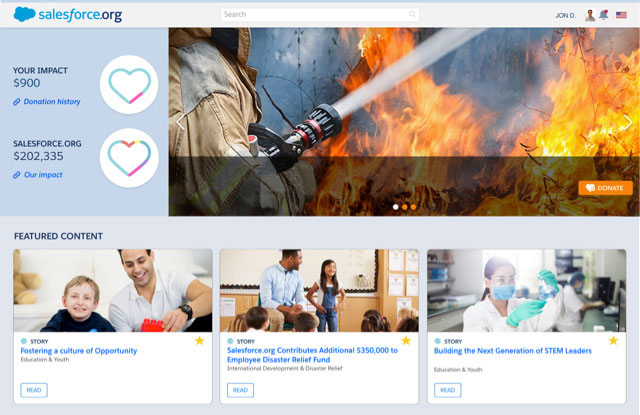 Introducing Salesforce
Philanthropy Cloud
Powered by United Way
The future of philanthropy is here.
United Way and Salesforce.org have partnered to introduce a revolutionary new platform that inspires, connects, and empowers employees and organizations to maximize their giving power. Philanthropy Cloud is the first-ever global platform that connects employees, customers, and partners with the causes they care about the most. A digital solution where corporate and personal social responsibility intersect, Philanthropy Cloud will not only make giving accessible, easier and more effective—it will change the face of philanthropy as we know it.
For Companies
Salesforce Philanthropy Cloud offers companies a beautiful, intelligent, and intuitive employee giving app. Enjoy access to campaign management and realtime dashboards to assess personal, corporate, and community impact.
For Individuals
Salesforce Philanthropy Cloud offers a personalized platform for creating change in your local communities. Host fundraisers, measure your impact, and track your footprints throughout your giving journey.
Welcome to the future of philanthropy. Welcome to Philanthropy Cloud.
Sign Me Up
In the News
02/27/2018
Fast Company
Their new app called Philanthropy Cloud lets corporate employees have a record of all their matched giving–and will help guide them to other organizations, information, and ways to help in person.
02/27/2018
Salesforce.org
At Salesforce.org, we are excited to usher in a new era of corporate philanthropy. Salesforce.org Philanthropy Cloud is a revolutionary new marketplace for giving, a first of its kind network platform to connect corporations, employees and nonprofits at scale.