Editor's Note: A portion of this blog was presented at United Way of Salt Lake's 2019 United for Change event, where Abdi's work with our grassroots leadership team was featured during the program. 
Since I was a child, I knew that someday I would leave my country.
I was born in Somalia and due to the war, my family had to migrate to Kenya for safety. We escaped and found ourselves at the Kenya border to be part of the Kakuma Refugee Camp. Then, in 2005, my family had the opportunity to be moved to America. We wanted to get the opportunity to start over in a new country.
Although I knew coming to a new a country wasn't going to be easy, I was ready for the challenge and the new lifestyle that I was going to have in America–like going to school and being able to pursue my dreams of going to college.
My journey here in America, specifically here in Utah, has been filled with education, sports, learning, community service, internships and jobs. My family and I were able to find peace and safety here.
I have always been interested in getting involved in community service and to know how to build stronger communities for the better, but I just didn't know how to get involved. So, when I saw the chance to apply for United Way of Salt Lake's Grassroots Leadership Fellowship, I jumped at the chance.
I knew the internship was going to teach me the skills and give me the tools that I need to help and to be involved in the community that I live in.
During the internship with United Way of Salt Lake (UWSL), the other Grassroots Interns and I worked on several things such as: planning family dinners, participating in back-to-school nights, completing Ages & Stages Questionnaires with parents and young children (a screening test that can help parents see if their child is developmentally on track), collecting and entering data about our community, and visiting community centers to reach out to parents about parent engagement.
The internship helped me identify the opportunities of the community that I live in, and I was able to strengthen it by starting to address challenges parents and families face. We were able to build bridges within the communities UWSL serves and overcome the language barriers that exist between United Way and the communities around us.
The internship also gave me experience working for a well-respected organization like United Way, which gave me insight into how a career in community organizing could look and the requirements needed for such careers.
I am currently working at the Department of Workforce Services at the Imaging Department while balancing school. I will be graduating in May from Salt Lake Community College and am excited to be the first generation to graduate from college in my family.
I hope to transfer to the University of Utah to work on a degree in social work or psychology and continue to further my education.
The internship has motivated me to continue working towards my dreams in life. It played as a mentorship for me, guiding me to the right path. My experience helped me shape my goals and gave me the knowledge that I needed to build stronger communities and be a good role model for youths who share the same background as me.
It was difficult to learn new strategies and skills, but with the help of United Way I was able to get full support from my team members and it helped me learn and give back to my community.
By supporting United Way, you can help more people like me have the opportunity to build up communities from within and allow voices to be heard that often are not.
To learn more about United Way of Salt Lake's grassroots leadership work, visit uw.org/grassroots.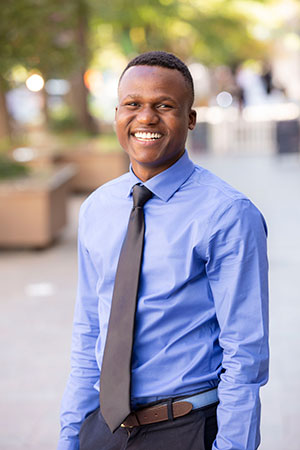 By Abdi Iftin, Former Grassroots Leadership Intern at United Way of Salt Lake