The Grassroots Leadership Fellowship is a part-time program that inspires and supports local community members in taking a leadership role in building up their communities. They do this by facilitating conversations with residents about education and by working with them to develop initiatives to improve educational outcomes for students and families. During their fellowship with the Grassroots Leadership team, Anahy Salcedo and Flor Isabel organized a project around the relationship between families and schools during the early months of the COVID-19 pandemic.
INTRODUCTION:
The idea for this project was sparked by the lived experience of one of our team members, Flor Isabel (they, them), a Spanish-speaking caregiver in Kearns. It was born out of the challenges they experienced with one of their children falling behind in class. Flor, the caregiver, was not informed about the academic slide until later in the school year and felt blamed by the teacher for their son's challenges. This experience left them feeling frustrated and motivated them to reach out to other caregivers and ask if they were facing similar challenges. In these conversations, they heard that others were also struggling with receiving and understanding communication from the school. After hearing that the challenges were widespread and that school communications were unclear to other caregivers as well, our team decided this was something we wanted to learn more about.
To initiate this project we conducted two focus groups, in Spanish, in June 2020. Our intent was to learn more about what the relationship between families and schools was like during the initial months of COVID-19. While conducting these focus groups we found four main themes. To validate our findings and ensure that these themes reflected the experiences of the focus group members, we conducted a workshop with some of the original participants in December of 2020.
BACKGROUND INFORMATION: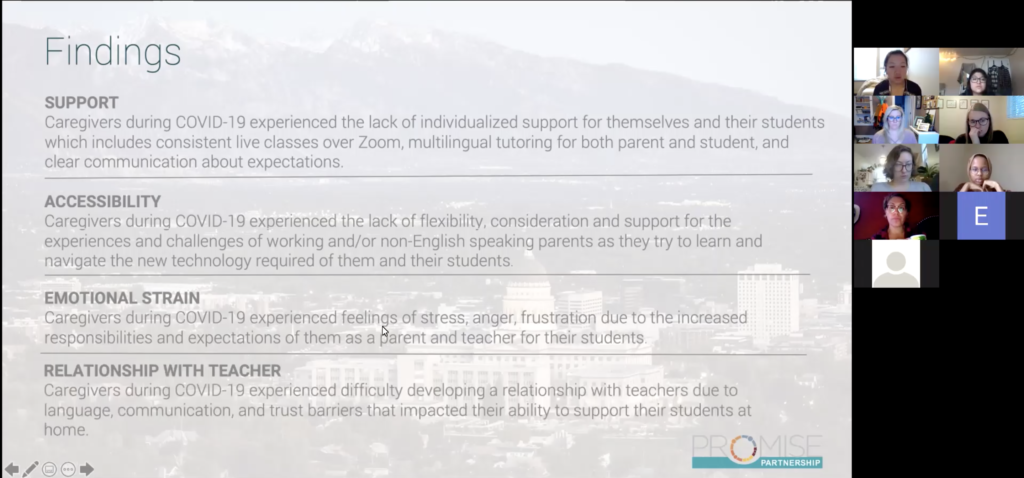 This project began in December 2019 when we were initially looking at the impacts of school-initiated communication on the relationships between families and schools. We focused on school-initiated communication regarding academic progress, safety concerns, and disciplinary issues. Communication plays an important role in family/school relationships — because it gives insight into a student's academic progress, emotional health, and overall well-being, poor communication can ultimately have a negative impact by not encouraging action before a situation becomes serious.
Due to the COVID-19 pandemic, which became the biggest, most immediate concern for caregivers during the time we were conducting research, the focus of our project shifted. This changed the project's trajectory and communication became even more important. The relationships between families and schools can be affected by language, school environment, and school communication. Due to this changing reality, we modified our research question to: How has the relationship between families and schools been affected by the COVID-19 crisis and what are the supports families have used to overcome challenges with distance learning?
METHODS:
How were the participants selected (inclusion/exclusion criteria, sample size)?
We chose to invite Spanish-speaking caregivers because we believed that they were the ones most impacted by language barriers and a lack of relationships with schools. In the focus group, the majority of caregivers had a student in Salt Lake County. After looking at data from the focus group we narrowed the parameters of our project to focus on households with students in Kearns; because experiences can vary based on schools and districts, a smaller area of focus was needed to ensure consistency.
Sample Size:
Focus Group: 21
Workshop: 4
How were participants involved in the study?
We decided to conduct a focus group because it allowed participants to share their experiences and insights while building a community.
We later conducted a follow-up workshop to start involving caregivers more deeply in the analysis portion of our research. This workshop was planned intentionally to create an environment that was co-owned by caregivers to ensure we moved together toward action.
What was the process for coding and analyzing?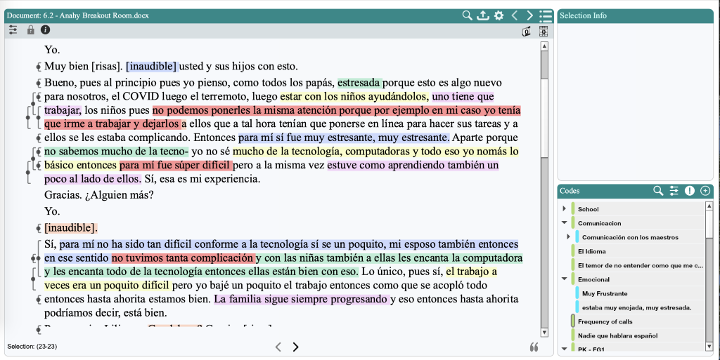 We coded all of our transcripts from the focus group in Dedoose, a coding software. In the analysis phase of our work, we used our codes to find overarching themes in the data. Once we had grouped the data by theme, we dove back in to find illustrative and important quotes to create claims which interpreted and explained the data.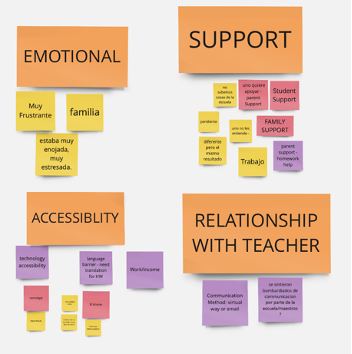 FINDINGS:
How to read the findings:
Finding: this is the overarching theme
Problem Statement: this is the summary of a problem caregivers were facing
Experiences: these are quotes from caregivers that best describe an experience related to the problem statement
Recommendations: these are quotes from caregivers that make a recommendation aimed at helping caregivers and students address the issue from the problem statement
Finding 1: Support
Problem Statement:
Caregivers experienced a lack of individualized support for themselves and their students. Missing components included consistent live Zoom (virtual) classes, multilingual tutoring for parents and students, and clear communication about expectations during COVID-19.
Experiences:
"She [the teacher] bombarded us everywhere, it's like she said, mom and dad have to know that they [children] have to do homework, that there are instructions in Zoom."
When the caregiver said "bombarded us everywhere" they were explaining a feeling of being overwhelmed by teachers providing information about many topics (such as a transition to online learning, COVID-19 precautions, assignment instructions, and resources) across many platforms.
Recommendations:
"We [caregivers] also want to learn. Even though we might not understand everything teachers say, they [students] know we're always around for them."
"So, like having the tutor and saying, "Okay, let's see what parent gets it and which [ones] struggle…" and then I think that would help."
Finding 2: Accessibility
Problem Statement:
Caregivers experienced a lack of flexibility, consideration, and support for their unique experiences and the challenges of working and/or non-English speaking parents, especially regarding trying to learn and navigate new technology required of them and their students.
Experiences:
"We [caregivers] don't know much about technology, computers and all that, just basics, so for me it was super difficult [to do distance learning]."
"Sometimes we [caregivers] couldn't get on [online platforms] because of the same reasons- that we didn't know how to use all these tools as parents."
Recommendations:
"If [the school] could put the homework on some program, but to translate them into Spanish for us [caregivers] to teach them, because all the tasks they [students] have on the computer come in English."
Finding 3: Emotional Strain
Problem Statement:
Caregivers experienced feelings of stress, anger, and frustration during COVID-19 due to the increased responsibilities and expectations of them to be both a parent and a teacher to their children.
Experiences:
"But I think the hardest thing has been for the child to know that there was a break [from in-person school]. He was very attached to his school, and overnight it was over."
Recommendations:
"I would personally like [the school] to work a little on the emotional part of students and parents."
"It seems to me that they [the school staff] have to become a little more individualized to the emotional part of each family other than that caregivers are frustrated with COVID."
Finding 4: Relationship with Teacher
Problem Statement:
During COVID-19, caregivers experienced difficulty developing a relationship with teachers due to language, communication, and trust barriers which impacted their ability to support their students at home.
Experiences:
"I think if there was more communication with the school about what was going on all the time and not just [my child] was absent… That's the end of what we get from the school…why is [everything else] unimportant?
Recommendations: 
"[With] More teachers who speak Spanish or more people involved in the school who speak Spanish, I think [caregivers] would feel more comfortable and more welcome in a school."
WORKSHOP:
Goal:
To ensure that the findings from our analysis of the data were accurate representations of the issues the participants of the focus group faced.
Outcomes:
Participants validated the findings
Participants shared that there has been some improvement in Zoom calls, communication with teachers, and with distance learning since June
Participants confirmed that the emotional strain caused by COVID impacted them and their students' life inside and outside of school, and that it continues to be a challenge today
NEXT STEPS:
We will be inviting participants to develop and lead an initiative to address the emotional strain they identified as a continuing challenge during the workshop.
Authors: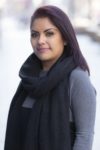 Flor Isabel, Grassroots Leadership Organizer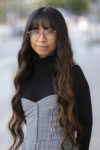 Bianca Paulino, Grassroots Leadership Organizer
Maiyer Lor, Grassroots Leadership Organizer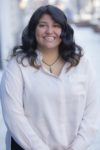 Anahy Salcedo, Grassroots Organizer Lead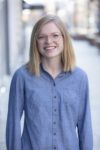 Madison Sudweeks, Grassroots Leadership Coordinator