The Grassroots Leadership Fellowship is a part-time program that inspires and supports local community members in taking a leadership role in building up their communities. They do this by facilitating conversations with residents about education and by working with them to develop initiatives to improve educational outcomes for students and families.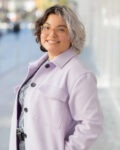 As a first-generation Mexican American, high school graduate, and college student, I've had a complex relationship with educational institutions. The more time I spent within them, the more I realized they aren't built for the majority of our communities. Growing up, I couldn't imagine myself in higher education, but with the support of my community, I was able to take a chance on myself and began my higher education journey. Now, I am a fifth-year student at the University of Utah pursuing a Bachelor of Science in Operation Systems & Supply Chain and Gender Studies. Although this journey has presented a few obstacles, I am grateful to have the support of my community every step of the way.
Coming into this fellowship, I didn't realize how much support I would receive as I questioned systems. I talked to youth and educators about their experiences within educational institutions and developed a desire to advocate for racial and ethnic equity, and representation. Working with educators of color to promote belonging, inclusion, and retention for K-12 BIPOC educators was a truly inspiring experience. I was constantly amazed by their vulnerability and passion while working toward systemic change. While developing and carrying out different projects, I met a lot of amazing individuals that were filled with a lot of love and passion for their communities. Knowing that our communities are composed of individuals working toward change gives me an immense amount of hope for the future.
I am so grateful I had the chance to learn more from my community. While on this journey, the support I received from my team was so healing. The rest of the fellows were instrumental in developing my projects. They were always ready to question the effectiveness of the systems we were exploring, all while prioritizing creativity, curiosity, and compassion. The rest of the grassroots team was instrumental in helping me realize that I am more than the work I do. I often get caught up in the need to fix everything on my own, but they helped me realize I had a community to turn to. They provided an immense amount of support in my personal and professional life, and a space where I felt safe enough to show up as authentically as possible. I am grateful to have had the opportunity to work alongside such amazing individuals.
To learn more about the Grassroots Leadership Program, visit here.
By: Xitlally Garcia, Grassroots Fellow