Jonathan,
a student
What a Pair of Glasses Can Do
A community school is both a place and a set of partnerships between the school and other community resources. Its integrated focus on academics, health and social services, youth and community development, and community engagement leads to improved student learning, stronger families, and healthier communities. This is a story about how this partnership United Way of Salt Lake works in community schools to align programs and resources so that kids and families have the tools they need to be successful. This year, through UWSL's Promise Partnerships, a vision clinic was held at several community schools, allowing students to both have their vision tested, as well as have their new glasses delivered to the school – which has never happened before.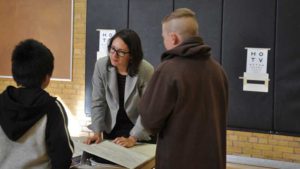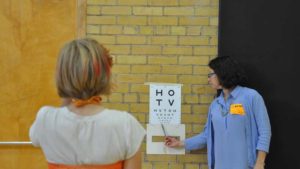 In Roosevelt Elementary's sixth grade classes, each student is expected to pass a math facts test. Students have an opportunity each week to take this test, and one student, Jonathan, had failed his test every week since the beginning of the school year.
Imagine taking the same test each week for two months and failing again and again! The day he received his reading glasses though, Jonathan passed – with a perfect score.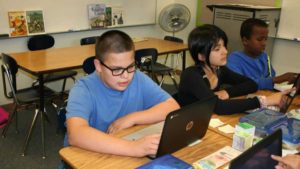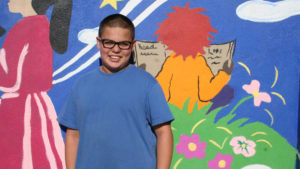 Jonathan had been struggling with his eye sight for a long time. But going through all of the steps to get glasses – from the doctor's appointment, to finding the right glasses, to picking them up, to paying for them – are often insurmountable barriers to families whose parents work multiple jobs, don't have vision insurance, or don't have accessible transportation. There are kids walking around in all our Promise schools who simply cannot see.
The academic repercussions of not being able to see in school are obvious. Over 20% of school-aged children in this country have problems seeing.[i] Low-income kids have it even harder: according to one study, "Title 1 students are two to three times more likely than non-Title 1 students to have undetected or untreated vision problems."[ii] But, follow up medical eye care after a failed vision screening increases a student's chances of succeeding in both math and English in school.[iii]
Schools have screened students for vision problems for a long time. But, until now, we didn't have any place nearby to send those kids who needed glasses. This year, thanks to Promise Partner Utah Partners for Health's (UPFH) new mobile vision clinic, we can get on-site vision appointments for the students who failed their screenings. Glasses are ordered and delivered directly to the schools for free, so there are no transportation, cost, or time barriers.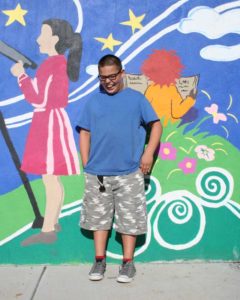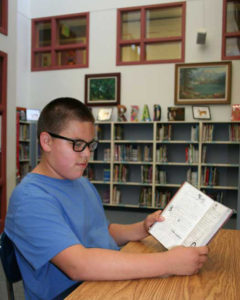 In Jonathan's case, he was so excited to be able to go to the optometrist while at school that he skipped recess to go to the clinic. "Before I got my glasses," he says, "I couldn't see the board even though I sit close up. Now that I have them, I can see way better. When I didn't have my glasses, I could never see things that my mom was showing me, but now I can see everything. And things aren't blurry anymore. I don't have to go close up to the book to read it. The ground doesn't go up and down anymore at recess either."
Congratulations, Jonathan, and to all the other Promise students who got glasses through UPFH's mobile vision clinic!