This Community Research Project was completed by two of our Grassroots Fellows. This short-term program helps community members use their interests and experiences to formulate and conduct projects that listen to local, often minoritized voices, and use their findings to catalyze change in the community.
Introduction
The transition from college student to professional is a new and challenging experience for many people. We began this project with the intention of documenting the experience so we could make recommendations on how to support Black, Indigenous, and people of color (BIPOC) students. Our research began with a question that related to our personal experiences as students of color. As a recent graduate and a student preparing for graduation and seeking employment, we found many barriers exist that prevent us from accessing jobs and opportunities. During the initial phase of our project, we formulated a research question by reflecting on our time in college and shortly after graduation. We realized that we lacked the networks that could connect us to post-graduation opportunities and we began to wonder what experiences other students of color were having while navigating this transition. As these questions began to formulate in our heads during the beginning of our fellowship, we started to think about creating a community research project that would provide answers to the questions we had. Additionally, we hoped that by finding answers to these questions we would be able to inform the community of the real, human impact of disparities that exist as students seek post-graduation opportunities. We also hoped this information would be used to support existing systems and create new systems that connect students of color to networks and post-graduation opportunities.
Background Information
We took our personal experiences a step further and developed a plan to research and address this question:  how are Black, indigenous, and other college students of color in Salt Lake experiencing network building? By focusing on this question, we hoped to gain a better understanding of the resources that are available to BIPOC students and their access to networks in connection to post-graduation opportunities.
Methods
How were the participants selected (inclusion/exclusion criteria, sample size)?
We interviewed thirteen first-generation BIPOC undergraduate and graduate students attending a Salt Lake higher education institution. Additionally, non-black, non-indigenous, and non-POC individuals were excluded. Students were recruited through social media including Facebook and Instagram, by email through diversity programs and advisors, and through student organizations group chats.
How did we collect the data?
Data was collected through recorded virtual interviews which were transcribed, coded, and analyzed.
What was the process of coding and analysis?
The process included revisiting audio recordings and transcriptions to find common themes between interviews. We used the themes that stood out the most as codes that were applied to each of our interviews. This process led us to create three conclusions that were most evident from our data set which we then formulated into claims. These claims are essentially the findings we were able to assert from our research which were proving to be true from analysis of our data.
How did we come to our claims?
We used a process of triangulation to validate the claims that stood out from our data set. Triangulation, which is the process of gathering and validating information from numerous sources, was also used in order to eliminate some of our existing biases on the data. Using this method, we found three claims that address three common themes of diverse representation, reasons to attend college, and post-graduation experiences.
Results
Claim 1
Many of the students we interviewed stated that they felt more comfortable in spaces where there is diverse representation within faculty and staff because they are able to share their concerns without the fear of being alienated or unrelatable.
A student at the University of Utah who transferred from SLCC shared this experience which illustrated common feelings towards a lack of representation
"I went to SLCC and I felt like I had like a lot of support at SLCC, and mostly just because a lot of the faculty there is very diverse and so I felt very comfortable… when I transferred to the U, it was harder to find those resources for me. I didn't feel like had a community who I could lean on for support."
This student's experiences at different institutions reveal that diverse representation has a direct impact on the well-being of students.
Claim 2
It's important for students of color to attend college in order to give back to their community, honor sacrifices, meet expectations made by parents, and offer future financial support for their families.
A student acknowledged that their reasons for attending college were to escape poverty and because they saw it as a responsibility
"… my mom, was coming from a place of like, this is your ticket out of poverty. You have to get an education. Me and my sisters were like, it was just instilled in us. So it wasn't really inspiration. It was like, well, we got to do this. There's no other choice. And it was like a norm"
This student's motivation to attend college stemmed from a desire to offer financial support to their family and help them out of poverty. Quotes like this reflect motivations shared by others we interviewed who felt similarly that college was an expectation; this expectation became a source of pressure for them.
Claim 3
Students feel unprepared for navigating grad school and/or finding employment opportunities post-graduation
When asked what would help them succeed post-graduation, one student expressed a desire to have exposure to many professions before graduating.
"I want to say re-enact real scenarios, with so many professions and so many majors out there, it's kind of hard to do that. So, I think just educating about the resources that are available and guiding students through that process. I think will help them out a lot at post-graduation."
This student believed being educated about the opportunities out there would be more helpful post-graduation. From our interpretation programs assist BIPOC students while they are in college but do not offer enough support to assist students' in navigating post-graduation.
Recommendations
Much of our research confirmed existing knowledge about the disparities that students of color face within institutes of higher education, it also highlighted important insights into how this directly affects the lives of those students. This is important because it helps us understand the unique experiences of students of color. Our research was able to reaffirm the importance of evaluating and critiquing the existing programs that are in place for students of color as well as proposing ways in which they can improve. Furthermore, upon completion of our research project, we came up with a set of recommendations for the higher education system that will allow them to better support BIPOC students. These recommendations include:
Expanding mentorship programs
Hiring more diverse staff and faculty
Providing greater exposure to career experiences for students
Creating more networking opportunities for students
Next steps
We hope to build upon what we've learned from our research by doing further study on how programs that work to assist students through college make accessible the services they offer and the impact of their services. Additionally, we want to work towards building a six- to eight-week program for recent graduates that will offer networking opportunities, professional skill-building activities, and resume building. Our desire is that these efforts will help improve the transition into the workforce and that they will face fewer barriers we, and many of our participants, have felt.
To learn more about our Grassroots Research studies, visit PromiseUtah.org/grassroots-leadership.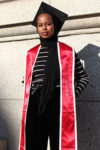 By Maiyer Lor & Naima Dahir, Grassroots Leadership Organizers