The Grassroots Leadership Fellowship is a part-time program that inspires and supports local community members in taking a leadership role in building up their communities. They do this by facilitating conversations with residents about education and by working with them to develop initiatives to improve educational outcomes for students and families. During her fellowship with the Grassroots Leadership team, Liliane Kwizera did a research project about BIPOC students dealing with issues of mobility. This is her note to future Grassroots Fellows.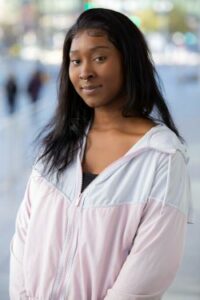 My mother taught me to embrace who I am and always stand tall, regardless of my struggles and tribulations. As a child in a refugee household, I felt called to serve others – others like me who were learning how to navigate a world they knew nothing about.
I joke with my friends that I've already had more than five professions in my life. From a nine-year-old translator to an 11-year-old financial advisor for my parents to an emergency responder, and more. During school, my family moved around a lot from the time I was in elementary school all the way until high school. So, a lot of the time, I had to make sacrifices at the expense of my education. I had to deal with many issues due to our mobility, and I did it all by myself, which made school that much harder for me. I wished I had someone who knew what I was going through and understood the effects of the constant moving.
When I heard about the Grassroots Leadership program and learned that participating would give me a chance to work closely with my community to help bring awareness to challenges and give a voice to students dealing with issues of mobility, I didn't even think twice about joining.
In the six months I spent as a Grassroots Fellow, I was able to connect with high school students and conduct focus groups to identify the issues they faced due to mobility. I presented these findings to the staff at United Way of Salt Lake and Cottonwood High School. I was able to advocate and bring awareness of real issues faced by students to educators and mentors. And I did the one thing I wish others had done for me: cared enough to start a conversation and present a solution that could help other students in the future.
My advice for future fellows is to be bold. Be vulnerable. Your humility is your greatest superpower. Be true to your work. It's important, and what you have to say matters! You are here to make a real difference. No more suffering in silence. Utilize the resources you've been given. It's okay not to know it all. I had moments where I felt discouraged, but I learned to trust myself and trust that I had a support system at my fingertips. In this line of work, you'll meet some incredible people. The people you work with won't be just co-workers, they're going to become some of the greatest friends you'll ever encounter.
My final piece of advice is to be yourself: be funny and be weird. This is one hell of an experience, so enjoy every moment and make the most of it.
View this post on Instagram

By Liliane Kwizera, Former Grassroots Leadership Fellow