Programs report on how they've reimagined preschool after a year of receiving the Reimagine Early Education grant
United Way of Salt Lake and Promise Partnership Utah are supporting community partners and providers as they reimagine preschool services and put the needs of historically underserved populations front and center.
Four grants were awarded to four organizations, and this week they reported back on what they're doing, how they're doing it, and the positive effects they're already seeing in their communities after the first year.
Utah Community Action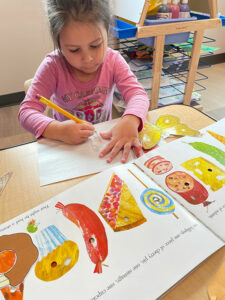 Utah Community Action and Granite School District are partnering to meet the needs of children in Granite District who require additional assistance as they transition into kindergarten. They worked together to create a summer program using the three-part Head Start approach to kindergarten readiness:
1. Prepare children to be ready for school
2. Ensure families are ready to support their child's learning
3. Ensure schools are ready for children.
The launch of the Summer School Readiness program has helped Utah Community Action understand how to be more intentional in connecting their work with that of other organizations working for the same outcomes. Analyzing the effectiveness of the program has shown that ratios matter; when the adult-to-child ratio is one to five, academic outcomes improved. Although the program is still relatively new, early results are positive: during the 10-week program the literacy rate for enrolled students went from 64% to 79% of students testing as proficient, and math scores improved from 68% to 81% of students testing as proficient.
Granite School District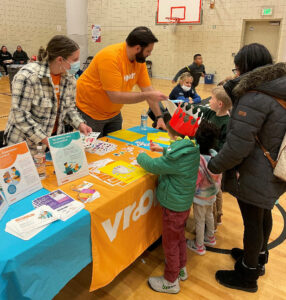 Granite School District launched the Early Childhood Connector Program to create a partnership with agencies that serve four-year-old students and focus on kindergarten readiness. The partnership focuses on high-quality preschool and addresses identified gaps experienced in the early childhood community. Since launching, Granite reported the discovery, "Parent engagement and parent advocacy was a weak spot for us." With this information, the district set its goals:
1. Connect parents to resources
2. Build caregiver advocates
3. Support kindergarten readiness
4. Address identified gaps
To meet their goals, Granite hosted eight Family Activity Night events. They invited organizations that were part of the Connector Program, partners, teachers, and elementary school staff. They also hosted 10 different activities which helped expand learning, family supports, and provide opportunities for relationship building. Approximately 102 families (383 people) participated in the events.
Children's Service Society of Utah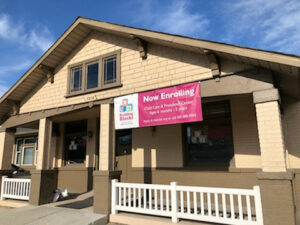 The Children's Service Society of Utah (CSS) has used their grant to create a childcare facility that addresses the childcare needs of employees at CSS, provides a way for underserved families in the area to access high-quality early education, and serves as a training resource for low-income individuals where they can find support and mentorship. The training/mentoring component helps trainees obtain the skills necessary to be employed by or start their own childcare business; providing further resources in the community.
With community donations and innovative funding for staff, the Building Blocks Childcare Facility is up and running and the center was able to purchase the selected preschool curriculum that will be used in classes for three-five-year-olds. The center had 18 attendees, all from low-income backgrounds. After opening in February, the school saw enormous progress in Pre-Kindergarten Entrance and Exit Profile (PEEP) scores. Upon entering classes, 36% of the students were proficient in literacy and 45% were at the benchmark for numeracy. After six months of learning, 82% of the children were at a Level 2 or higher in literacy and 91% of the children were at a Level 2 or higher in numeracy. The PEEP exam tests students' knowledge of the alphabet, shape recognition, and other basic skills.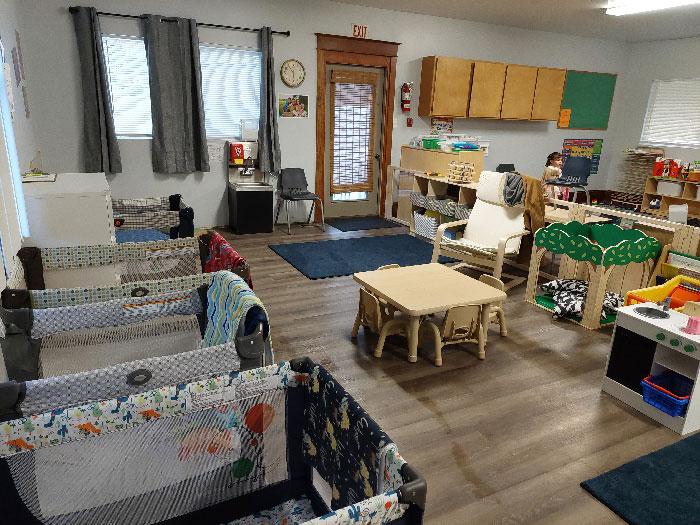 For Encarni Gallardo, Executive Director of the Children's Service Society of Utah, the most heartwarming moment of the whole process was when a student came into the renovated room and told her, "Ms. Gallardo, this looks like a real school!"
Friends of the Children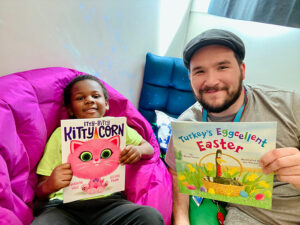 Friends of the Children Utah is a mentorship program where a child is matched with a long-term "professional" mentor who helps them with both their academics and being involved in the community. With the Reimagine Early Education grant they received, Friends of the Children Utah partnered with Redwood Elementary to expand their program and hire five additional mentors.
Mentors help families facing barriers to their children's early education success by facilitating the use of supplementary programming to enhance their students' learning, wrap-around services to ensure families are able to navigate systems and meet their basic needs, and research-based approaches to support parental engagement in their child's education.
In addition, Friends of the Children purchased Chrome Books with the grant money so mentors were able to complete i-Ready programming with their mentees.
"Connecting to i-Ready…gave us the ability to put these kids through a diagnostic process and create an individualized plan for each student," says Logan Meyers, Program Director of Friends of the Children Utah.
To support students in completing the i-Ready program, they hosted i-Ready pizza parties where students could come get a meal and participate in activities such as obstacle courses between i-Ready assignments.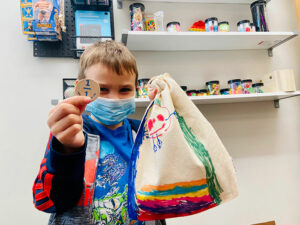 The organization also hosted a book fair. Through a partnership with Fox13 and Scholastic, Friends-Utah was provided with 3,900 books for distribution through a Scholastic book fair, hosted at the Friends-Utah clubhouse on March 18, 2022. Leveraging partnerships that were strengthened through involvement with the Promise Partnership, youth from Redwood Elementary, Utah Community Action, and other partner organizations were invited to participate in the book fair. The results were fantastic:
A total of 2,367 books were distributed at this event to students, teachers, community partners, schools, preschools, and Head Start centers.
Additional books were added to Friends-Utah's Clubhouse library and the remaining books will be distributed to youth at events throughout the year.
Learn about the recipients of the K-12 Reimagine Education grants in our blog: Announcing the Winners of the Reimagine Education Innovation Awards.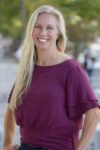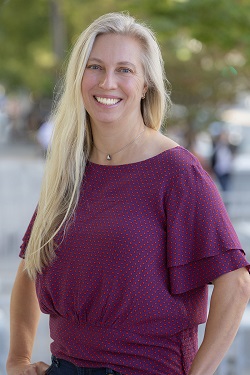 By Jessica Gezon, Sr. Content Manager for United Way of Salt Lake