Now is the time for change. Learn how the 6 winners of the Reimagine Education Innovation Challenge plan to create more equitable classrooms as we return to school.
United Way of Salt Lake hosted the Utah Education Innovation Award Ceremony, a culmination of a month-long challenge for schools to rethink back to school efforts with marginalized communities in mind.
At the ceremony, six schools from local districts were awarded with $50,000 grants to help them implement the strategies and plans they created that prioritize students of color, students from low-income families, and English Language Learners.
Through these awards, our intention is to shine a light on these transformative ideas and practices; and to help support and spread them through ongoing partnerships. We are grateful for all the schools who are thinking about how they can be innovative this school year as we navigate the COVID-19 pandemic and work to make our education system more equitable.
Learn more about each school's winning plan below.

Winners of the Promise Partnership Education Innovation Awards
Hillside Elementary
(Granite School District)
Hillside will focus deeply on authentic family engagement. They will implement home visits to create a deeper connection between teachers and families. They will also implement the "Big 3" Academic Proficiency Expectations, which involves teams of teachers identifying the most essential academic proficiency expectations in language arts and math and then vertically aligning those from 1st grade on up. There is a big emphasis on making sure these are written and communicated in a way that every student and family can understand.
North Davis Junior High
(Davis School District)
North Davis will implement one-to-one weekly mentoring for every single student, align it to existing clubs and affinity groups, and hire student coordinators to shape and shepherd the initiative. They will also intentionally work to place more minoritized students in honors and AP courses.
Bryant Middle School/Salt Lake Center for Science Education
(Salt Lake City School District)
Bryant/SLCSE will extend their practice of no tracking (i.e., no "gifted and talented" track) into its feeder pattern elementary school to create a truly inclusive experience for students starting in kindergarten. Teachers at Bryant/SLCSE work together and support each other's practice in truly unique ways, and this fall they will amplify those efforts by creating teacher teams that work with the same group of students and assign teacher mentors to every student.
Granite Park Junior High
(Granite School District)
Granite Park will implement a behavioral-focused intervention for leaders, teachers, parents, and students. It will de-emphasize discipline and punishment, which have not been shown to positively impact academics and have been shown to negatively impact students of color. Instead, they will focus on a more equitable approach that puts students in control of their own learning, behavior, and consequences and that helps train all the adults in the school building, as well as parents/caregivers, how to engage in this positive and research-based approach.
East High School
(Salt Lake School District)
East High School is de-tracking their academic program for all incoming ninth grade students. Every ninth grader will be enrolled in Pre-AP English 1 and AP Geography instead of offering different levels of content. This will help foster a culture of high expectations for all students while ensuring students are introduced to a singular, integrated high school experience.
James Moss Elementary
(Granite School District)
Moss will take teaching and supports to their most marginalized students by embedding trained teachers and paraprofessionals in out-of-school programming, including the program at the Bud Bailey Housing Unit. Moss will also focus extensively on creating an inclusive and supportive place for parents and caregivers by offering a variety of proactive outreach, trainings, and interpretation services.
Learn more about the challenge and watch the video recording of the ceremony at promiseutah.org/reimagine-education-challenge.
The Utah Education Innovation Awards are sponsored by Mark and Kathie Miller.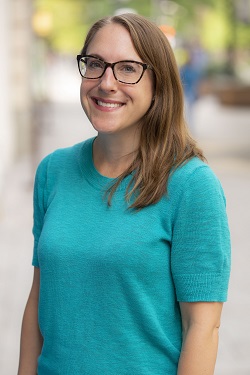 By Taryn Roch, Senior Network Director