The Salt Lake Center for Science Education is using its Reimagine Education grant to implement a learn-by-doing model
The Salt Lake Center for Science Education (SLCSE) wants to change how topics are taught in classrooms. In fact, they want more students to learn outside the classroom.
In April 2020, SLCSE and Bryant Middle School were jointly awarded a $50,000 Reimagine Education Innovation Challenge grant from United Way of Salt Lake to help implement their plan to prioritize students of color, students from low-income families, and English Language Learners. Their idea was to innovate their science education curriculum, extending it from middle school into high school, making learning more accessible to students from a variety of diverse backgrounds. They aimed to do this through experiential learning.
What is Experiential Learning?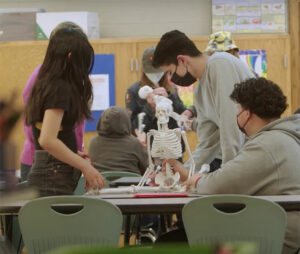 Experiential learning is a learn-by-doing model, with a reflection component, that results in a deeper understanding of the content being taught.
During the past year, SLCSE has created a variety of experiential learning opportunities as part of their curriculum. For example, to learn about basic chemical functions, students visit a nearby body of water to examine oxygen levels. To bring photosynthesis to life and learn about the water cycle, students design and build a terrarium.
Students also have the opportunity to expand their learning by interacting with partners in the community. SLCSE offers an "Advanced Science Research" project. Students who choose to participate get to work in science labs at The University of Utah and learn about college- and graduate-level research projects, then participate in a science fair of their own.
After doing a project, no matter what the topic is, students take time to reflect on what they learned, how it ties into the things they already know, and how they can conceptualize the meaning of the experience.
How Experiential Learning Includes Cross-Curriculum Integration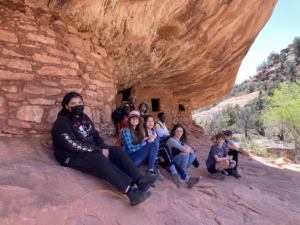 Experiential learning projects allow students to make connections across the subject matter of multiple courses. SLCSE teachers team up to create projects that allow students to simultaneously explore a variety of topics.
One of their projects in the past year covered Henrietta Lacks, whose cell sample has been used to study the effects of drugs and hormones on cancer since the 1950s. Students read the book The Immortal Life of Henrietta Lacks as part of their English course, used the content to study science and cell replication, and explored how it related to human rights issues of the 50s during history class.
"With experiential learning, we are fostering a greater connection to school and community, as well as building student self-efficacy and investing in the amazing young people who will go on to impact the world," says Sydney Phillips, a Network Director with United Way of Salt Lake.
How Experiential Learning Creates Equitable Classrooms
SLCSE is home to a diverse student population, with half the students identifying as BIPOC. SLCSE is intentional about designing their school to help kids appreciate diversity, respect, and inclusivity, which in turn reduces bullying.
Several of the experiential learning projects focus on allowing students to take the lead and have more control over what they learn. Through this student-led framework, students have introduced a history project where they learn more about their own histories. They then share what they've learned and teach their fellow classmates about the diverse experiences and cultures of students in the school.
The Result
After participating in a year of experiential learning, students were asked to self-assess the impact of the technique. They answered whether they 'completely agree,' 'somewhat agree,' 'somewhat disagree,' or 'completely disagree' with statements such as "my experiential learning trip helped me analyze information better" and "my experiential learning trip helped me grow as a person."
More than 85% 'completely agreed' or 'somewhat agreed' that experiential learning helped them in each category they were asked about.
For the 2022-23 school year, SLCSE is supporting educators as they roll out experiential learning at Rose Park High School, Bryant Middle School, and a new elementary partner school, Bennion Elementary.
SLCSE's principal, Britnie Powell, was recognized as a 2022 Utah Business 40 Under 40 for her innovative work. Learn more about her in this news story.