Every student gets a bout of jitters on the first day of school. It's entirely natural.
Indeed, the start of a new school year can be a massive unknown for many students –  especially those who may have fallen behind in several subjects or who don't have the same opportunities because of their family's financial situation or ZIP code.
There is one certainty on that first day for the nearly 29,000 students attending a United Way of Salt Lake community or partner school: They will be connected to every resource, service, and opportunity necessary for them to achieve their full academic potential.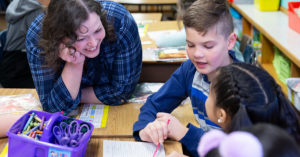 Community schools do more than provide students with a high-quality education. They are a hub of opportunity that, with the help of a UWSL community school director, break down social and academic barriers for students and their families so they can thrive in and out of the classroom.
And, at West Kearns Elementary, that support system comes into play well before the first day of school. DeLayna Wilhelmsen, the UWSL community school director at West Kearns, said volunteers helped nervous parents at the school's registration night to:
Fill-out paperwork;
Connect them to much-needed services like reduced school lunch or health insurance;
Provide translation for those who didn't speak English.
"Community schools and their partners are there to help families through this new beginning," she said.
UWSL works with more than 40 schools across the Wasatch Front, with about 41 percent of those students coming from low-income families. In some neighborhoods, the rate is as high as 73 percent, making the partnerships created around a community school that much more important.
As community school director at Woodrow Wilson Elementary, Eryn Gorang said it's her job to be a "bridge builder" between the community and her school by working with teachers and school administration to identify the gaps in academic achievement and basic needs of students and then strategically using existing community partners to fill them.
"By doing this, teachers can jump off the ground and do their jobs from the very start of the year because they don't have to worry about filling all of their kiddos additional basic needs," she said.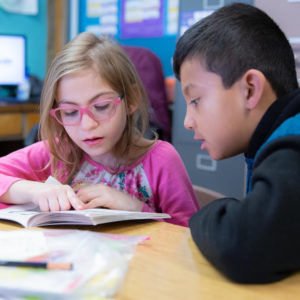 This school year, Gorang said literacy is going to be a major focus at Woodrow Wilson. She is going to adapt existing partnerships that target literacy so they can best supporting students. Currently, the ESL teachers and Americorps members are looking to roll out a high-need "Newcomer" literacy program that targets recent immigrant and refugee students that will bring in about 60 volunteers to read with kids.
Supporting community schools helps make these woven partnerships stronger. Donating time and money means that more children can receive academic, health, and family support, teachers can get equipment to implement new teaching strategies, and school administration can receive support it needs to make systemic, lasting change that can benefit students from all backgrounds.
Everyone in a school community benefits from the collaborative partnerships offered. The focus on academics, health and social services, youth and community development, and community engagement leads to improved learning, stronger families and healthier communities.
With public support, UWSL can ensure that our community schools continue doing for their students. Learn more about our community schools here: Uw.org/community-schools/