For Women's History Month, we're highlighting Women United members who are making waves in Utah and paving the way for the next generation. This week we are featuring Rebecca Chavez-Houck, who represented Salt Lake City's District 24 in the Utah House of Representatives from 2008 to 2018. Now, she is the Managing Member of Aspira Public Affairs, an organization that helps non-profits and others meet their community affairs objectives.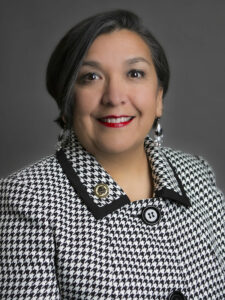 Rebecca Chavez-Houck decided to run for office long before she put her name on the ballot.
"There was a time, six or seven years after I started [as a Salt Lake County and State Democratic party delegate], that I'm looking at the representation, or more truthfully, the lack of representation of women and people of color elected to office. And while I was supporting some amazing candidates who were running for local office, I'm thinking 'we need more women of color, we need more women, we need more people of color, we need people with diverse lived experiences.' So, I went back to what my mom often told us as kids, 'don't just complain about a situation, do something about it.'…It struck me that instead of looking for people to run for office, at some point I should be that person," she said.
At the time, Chavez-Houck had two young children and wanted to wait until they were a little older before running for office, so she got involved in the community in other ways: through volunteering, advocating for refugees and immigrants, and working at local nonprofits.
"When the opportunity arose in 2007 for the house seat opening up in my area, I went for it," she said. "But it really did take building that capacity, not only for myself but the community and the political world getting to know who I was…I wanted to take the time to be very deliberate about pursuing political office."
For her, being in office was an opportunity to bring the voices of the community to the table.
"One thing that you will find when you serve in public office is that you may have ideas about how things should be done but really, you're an elected official and you represent a constituency," she says. "So, it's combining what you think you can bring to the table with making improvements on behalf of your constituents. You're not going to know what that is or what those needs are unless you're involved in your community."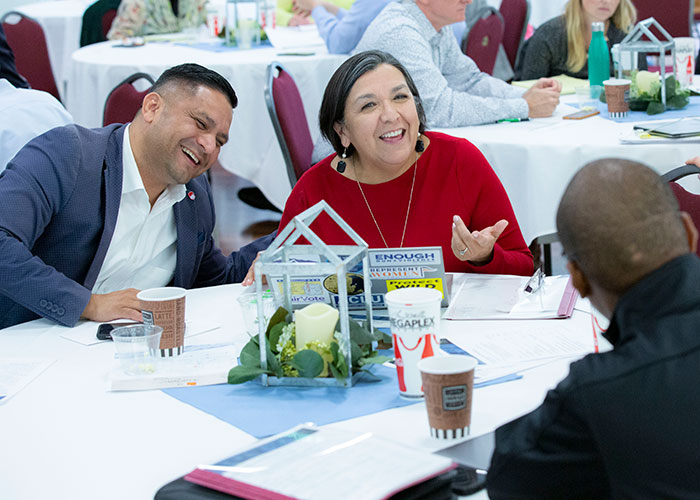 Being involved in the community is something she learned from the most influential person in her life, her mom. Her mom was the daughter of two Mexican immigrants, and despite having limited formal education themselves, they pushed their daughter to learn to read and write in Spanish and attend Catholic School.
"I kind of feel that she was a woman ahead of her time because she was very smart, she loved learning, she loved school," says Chavez-Houck. "Because of her situation in life and not having the money, she never did go to college and so she really pressed upon my siblings and I the importance of education and the importance of pursuing and taking advantage of every opportunity that came our way."
She then told the story of her mom helping a pregnant woman, who they did not know, by taking her to their family doctor and volunteering to translate what the doctor said into Spanish.
"The lesson that I learned at four or five years old is that when people in your community need something you just do it, you take care of it," Chavez-Houck says. "That's been kind of the genesis of why I care about community and why I feel so strongly about lifting up familial assets and not looking at people through a deficit lens."
During her time in office, Chavez-Houck did a lot to help the community. She supported expanding voter access and saw participation increase from less than 50% of eligible voters turning in a ballot in 2006 to nearly 90% of eligible voters in 2020. She sponsored and co-sponsored bills that addressed maternal mental health, medical interpreters, housing & homeless populations, and many other community initiatives. Now, she takes what she has learned and is a consultant to nonprofits and others in the political landscape at her firm, Aspira Public Affairs.
"I feel very strongly about getting to know your community before you decide to run for public office," she says. "I think it gives you an edge and a much-needed understanding of how to bring the assets of your community and the voice of your community forward."
And her advice for girls who want to get involved in politics?
"Believe in yourself. Your voice is valuable, your voice is important. There are enough forces in our community and in our world and in our society that hold women back, especially women of color, you don't need to be adding to that."
Watch the video of Rebecca Chavez-Houck being named a 2019 Changemaker:
Women United hosts an annual Day on the Hill, where they advocate for the United Way of Salt Lake's legislative priorities. Learn more about Women United at uw.org/women-united. Or learn more about getting involved in United Way of Salt Lake's advocacy work at uw.org/advocate.