By Kelly Schmidt, Content Manager at United Way of Salt Lake
Folding tables cloaked in Christmas-colored paper lined the front hallways of Woodrow Wilson Elementary on Dec. 14. Whispers of excitement and curiosity filled the halls as the kindergarten through sixth-grade students took notice of the tables.
The South Salt Lake community school's teachers were thrilled as well — not just because their kiddos would finally be in on this holiday secret, but because so many of their students desperately needed what lay under the holiday wrappings.
Every one of Woodrow Wilson's more than 500 students received a new pair of shoes and socks that day, thanks to the generosity of four United Way of Salt Lake corporate sponsors: Big Key Real Estate, Key Bank, Auto Owners Insurance, and UPS.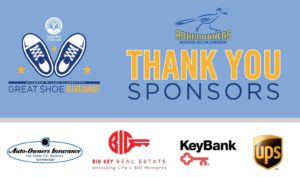 "For our kids, if their basic needs aren't met they cannot learn. If they have cold feet or shoes that are falling apart, they are miserable. So they are more concentrated on that than learning," said Woodrow Wilson principal Christine Christensen. "So to have corporate sponsors (through United Way) help us meet their needs is amazing."
More than 90 percent of students at Woodrow Wilson qualify for free or reduced lunch, meaning they live at or below the poverty line. More than 30 different languages are spoken at Woodrow and many of its students are refugees.
All four corporate partners held a shoe drive, where employees could purchase then donate new shoes or donate money to help purchase shoes for Woodrow Wilson students. The shoes and socks were then dropped off and packaged at Woodrow Wilson a few days before they were given out at school — by Santa no less.
Teachers released their classrooms one by one to distribute their shoes, then pay a visit to Santa in the school cafeteria. If students were absent that day, teachers collected their shoes to give to them the following week.
Students' eyes widened and their mouths dropped as they opened their new pair of shoes. Everything from Adidas and Nike, to Converse and Vans were given to the students, and everyone got to try them on to make sure they fit them perfectly.
For first grade teacher Terra Baker, knowing that Woodrow Wilson can rely on partnerships built through United Way of Salt Lake to help her students is a privilege she'll never take for granted.
"I have kids who have come to school with no shoes on at all and to see the joy on their faces for shoes rather than toys puts into perspective what's truly important this time of year," Baker said.