In honor of Pride Month, we're highlighting Encircle Utah, a 211 service provider focused on providing community and safe spaces for LGBTQ+ youth and young adults in Utah. 
The first Encircle home opened in Provo in 2017 with the goal of addressing the high suicide rate among LGBTQ+ youth in the surrounding community. Since then, the organization has opened homes in Salt Lake City and St. George and has plans for several more.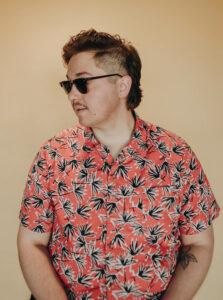 Encircle is a registered nonprofit with the mission to "bring family and the community together to enable our LGBTQ+ youth to thrive." They do this by offering daily programs, drop-in hours at the house, friendship circles, affordable therapy, family support, and more.
"We try to not only create a safe space where kids can come hang out after work or school, but also a place where they can meet people with similar identities, similar experiences, and a place where we can educate parents," says Cal Haynes, Senior Manager of Content at Encircle.
Haynes initially got involved with Encircle through an internship after college.
"I was still at BYU and looking for ways to get involved in my own community, the queer community, and found Encircle and just really fell in love with the work," they say.
Haynes' internship was spent working with teens and young adults who visited the Encircle home. They helped plan different events and activities including art nights, fun Fridays, and college nights. They also helped facilitate Youth Friendship Circles.
"I think the biggest thing is just how eye-opening it is to see a kid come in their first time. They won't make eye contact with you and they're nervous and then we give them a tour, we explain everything that Encircle does, and then they kind of just get to hang out. After just like an hour or two of being around other people, being around other kids who are also gay, or lesbian, or trans, or non-binary, these kids are just glowing," Haynes says.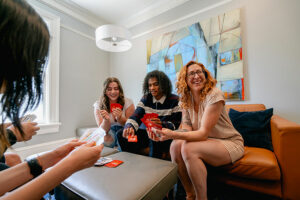 One of the programs Encircle hosts is Friendship Circles — affinity groups whose members are similar in age or identity. Available Friendship Circles include groups for teens ages 12-17 and young adults 18-25, as well as: Gay Male Adult Friendship Circle, Lesbian Adult Friendship Circle, Bi/Pan Adult Friendship Circle, Nonbinary Adult Friendship Circle, Trans Adult Friendship Circle, Spanish Speaking Adult Friendship Circle, QBIPOC Adult Friendship Circle, Parent/ Ally Lunch, and Parent/ Ally Connect (Evenings).
"There's a lot of voices that say that being queer is wrong or being queer is rare, even though, those things just aren't true," they say. "I think finding out that we aren't alone, that we aren't rare, that we aren't weird or different, but we're good and normal and we can live happy successful lives  seeing other examples of that, I think, really helps each of us feel more safe and secure in our own identity."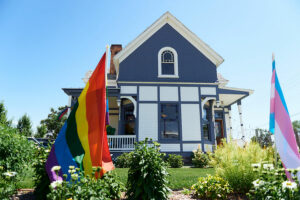 Encircle also offers subsidized therapy for community members.
"Therapy is such a big need in the community, especially in areas or communities or circumstances where identities haven't always been affirmed like in Utah," they say. "There's a lot of sorting out and dealing with trauma that can come from that."
Overall, the nonprofit hopes to create a sense of belonging for everyone who walks through the doors.
"For people like me and for a lot of the youth that come through Encircle, they've kind of been in a box their whole lives and it just doesn't fit for them. We want to make sure that these people can be celebrated for being authentic to their true selves."
You can learn more about Encircle's work and services by visiting their website or attending their drop-in hours, Monday–Friday from 3–8 p.m. You can support their work by volunteering, making a one-time donation, or committing to a monthly contribution.
Learn more at encircletogether.org/.
You can see 211's complete list of LGBTQ+ resources at bit.ly/Utah211-LGBTQ-resources