By Kelly Schmidt, Content Manager at United Way of Salt Lake
Erin Butler's third grade students at West Kearns Elementary are diving into reading head first. They are reading chapter books, working through story problems in math and science, and starting to think critically about every other subject they're covering in school.
But for about one-third of Butler's class, reading has been a struggle since day one. While their peers have begun reading to learn, these eight students are still learning to read.
"They are reading books at a first grade level. So, in a normal reading lesson they would never see a chapter book," Butler said, "and they know that third graders read chapter books."
Fortunately, Butler starts nearly every school day with a partner reading exercise, called dyad reading, that is helping both her struggling and excelling readers improve their literacy.
What is Dyad Reading?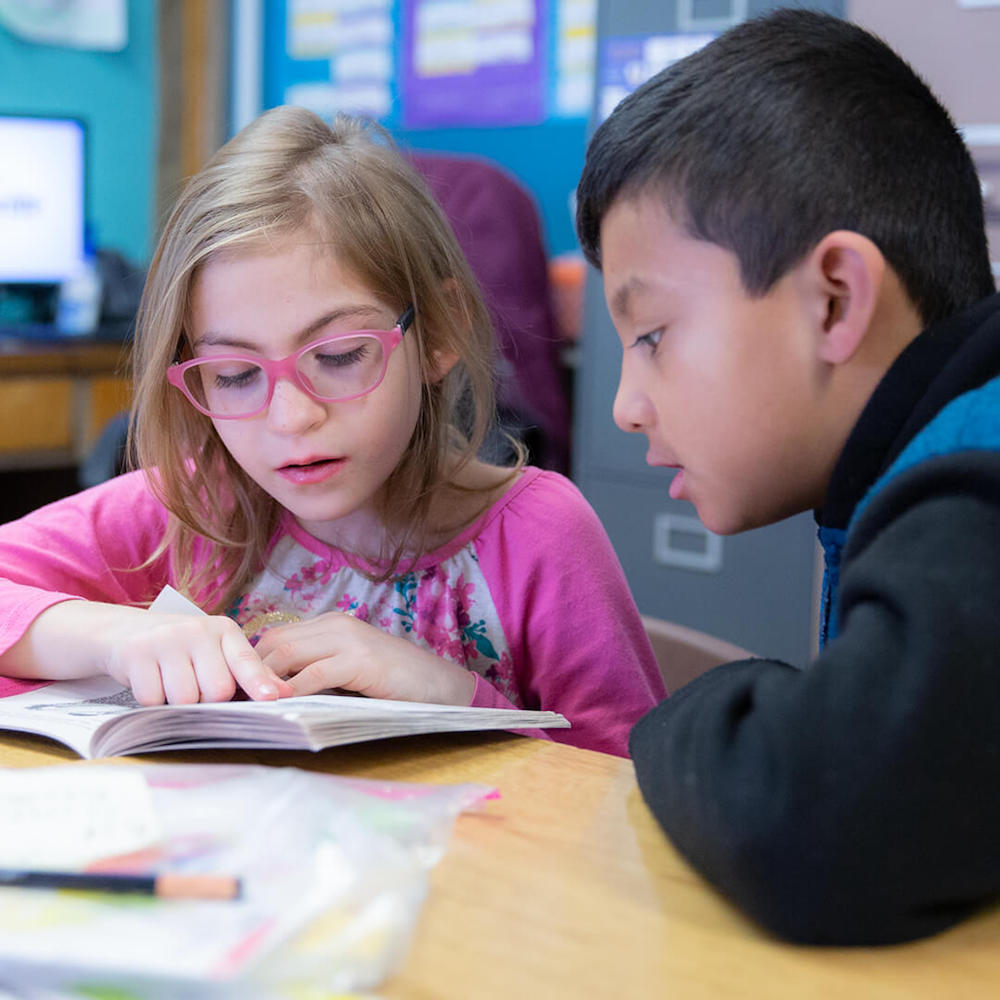 Dyad reading pairs two students together — one who is proficient in reading and one who is not — to read the same book aloud, one word at a time. This allows for the struggling reader to follow behind slightly and learn to sound out, pronounce, and recognize the words they do not know, while also allowing the proficient reader to practice their comprehension and oral reading skills.
The partner reading program has helped students across the Wasatch Front improve their literacy skills. The program was piloted at Sand Springs Elementary in Davis School District, where participating students outpaced their non-participating peers in reading by more than two times in eight months, according to results from the pilot.
It was later added into summer learning programs across Granite School District, with the help of United Way of Salt Lake's Elementary Reading Network, then expanded into classrooms during the school year.
Literacy builds brighter futures
Children who are reading on grade level in third grade are laying a foundation for success in school and life. They're more likely to do well in other subjects and are more likely to graduate from high school.
For struggling readers, however, the odds of them falling further behind increase exponentially if they don't improve their literacy skills.
Dyad reading has helped Butler's struggling students gain the confidence to try harder reading material. The program is also giving these students access to the learning they should be doing while also developing the reading skills that they're currently lacking.
This is especially true for the many English Language Learners in Butler's class. Not only are these students trying to develop a new language, she said, but they are also trying to keep pace with the reading standards third graders need to be meeting.
When Butler started Dyad reading at the beginning of the school year, she said the struggling readers looked scared to tackle the books they and their partners read. But with practice and encouragement from their classmates, they're less anxious to tackle material that is more difficult for them.
"But it doesn't stop there," Butler said. "When it's time for science, when it's time to read story problems in math, they're engaged in the lessons and they know that they can do it."
To learn more about how we set the stage for success for the students we serve, visit uw.org/success.