Find Ways to Give Back this Holiday Season by Donating or Volunteering
While the holiday season is nearing its end, United Way of Salt Lake's Season of Service still has opportunities for you to help meet the needs of children and families across the Wasatch Front. No matter what you are able to donate or how much time you have to volunteer, we have an opportunity for you. Below is a compiled list of different ways you can make a difference.

Where Can I Make In-Kind Donations?

Operation Chimney Drop | Utah Community Action
Utah Community Action is looking for people to support Operation Chimney Drop by providing gifts for a child or a home-bound senior, with the goal of helping 1,000 people. There are 232 children and 21 seniors in need of a Sub for Santa. Join this effort today by adopting a child or senior here:
Supporting Refugees in our Community | Catholic Community Services
Catholic Community Services is seeking household items for refugee clients. Donations can be made through their Amazon Wishlist, where you simply add items to your cart, checkout, and let Amazon handle the rest. Donations can also be dropped off at their offices from 1:00-4:00 p.m. on Tuesdays and Thursdays.
For more information, contact Will Maloy at wmaloy@ccsutah.org.
Early Learning | Copperview Elementary
Copperview Elementary is requesting toys and educational materials for their Family Learning Center daycare so preschoolers can be engaged in learning activities while their parents take English classes and use computers. Requests include balls, baby dolls, big Legos, soft blocks, puzzles for early development, and early learning tools.
Donate through their Amazon Wishlist:
School Supplies | David Gourley Elementary
David Gourley Elementary is seeking school supplies for their Family Engagement Center. They need colored markers, glue sticks, and lightweight drawstring bags.
See David Gourley Elementary's needs here:
How Can I Volunteer My Time?
Mentor 2.0 | Big Brothers Big Sisters of Utah
Mentor 2.0 with Big Brothers Big Sisters of Utah is a technology-assisted program with digital and in-person components. Volunteers will work in a hybrid model, mentoring students virtually and in-person. Mentors work with students on goal setting, resilience, staying on-track in high school, and preparing for college or life after graduation. Mentors will connect weekly with their student and have the opportunity to meet in-person for monthly activities with other Mentor 2.0 participants.
Kearns High School is currently in need of mentors. Sign up here to volunteer:
*All volunteers need to complete an application, background check and participate in orientation. Mentors in this program generally have a college degree.
How do I Support My Community Year-Round?
Donate to United Way of Salt Lake
Donations to United Way of Salt Lake ensure that students and families in need of educational resources have their needs met, in order to provide equitable access to resources and lifelong learning and success.
Set up a recurring donation to United Way of Salt Lake and provide resources to students and families throughout the year by visiting uw.org/donate.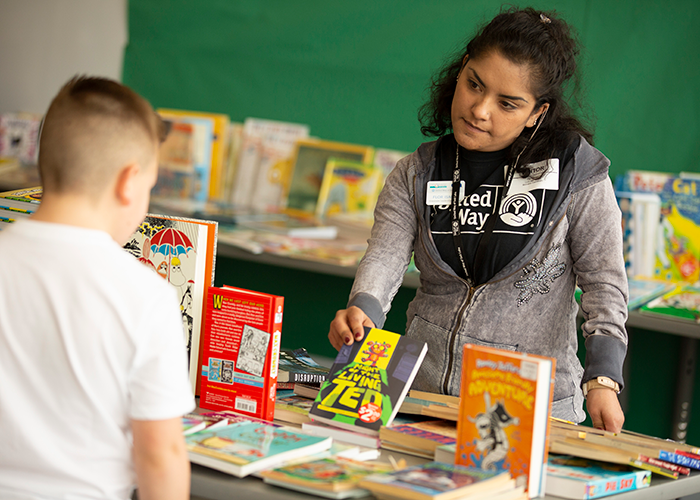 By Caden Alberts, Social Media Manager at United Way of Salt Lake