CBIZ, a nationwide accounting and business consulting firm with a local Salt Lake office, is one of United Way of Salt Lake's valued corporate partners. Throughout the year, employees volunteered at events, including Stuff the Bus; they hosted a supply drive; and sponsored a golf tournament.
 "CBIZ as a core is really dedicated to volunteering and bettering the community where their offices are,"  says Mandy Jenkins, Operation Coordinator with CBIZ
They work closely with the United Way of Salt Lake team to find ways in which they can get involved.
"The passion that CBIZ has for our local community and the United Way of Salt Lake mission is so inspiring," says Kelsey Hayes, Corporate Engagement Advisor with United Way of Salt Lake. "During their annual UWSL giving campaign, CBIZ is the first to try new strategies to increase awareness and engagement. The #WhyIGive campaign is such a great example of this. I am so lucky to have the opportunity to work so closely with such a passionate group of people."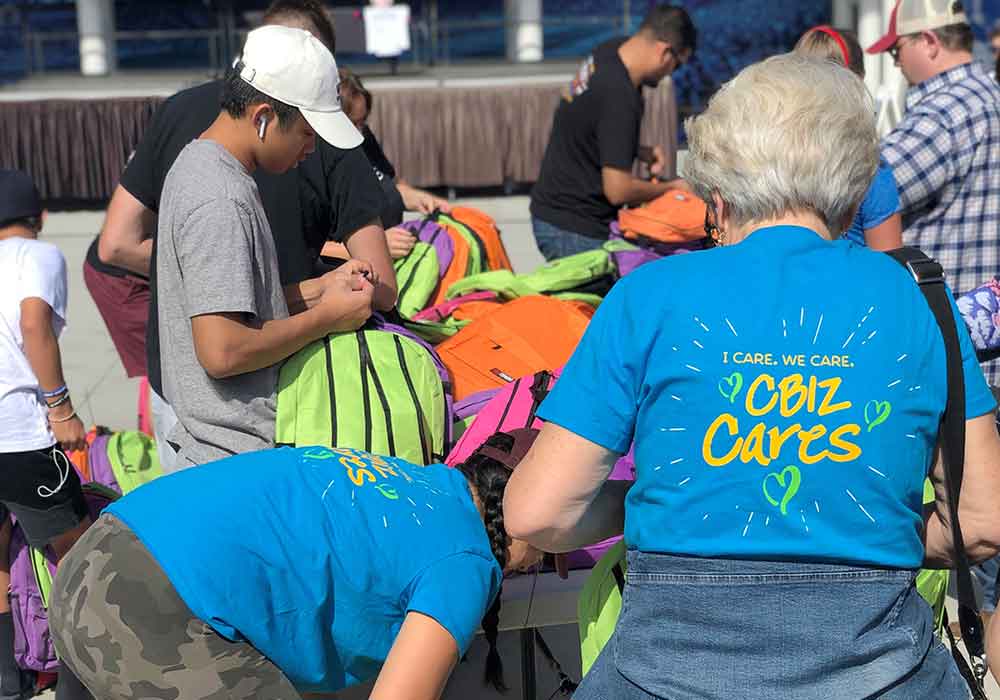 During their 2019 Giving Campaign, employees shared why they donate to the Salt Lake community. These are some of their stories:
"I support the United Way because of their involvement in the early education of children.  A good education is a foundation for life and opens up endless possibilities.  Specifically, the ability to read proficiently is very important to me. A good friend of mine has struggled with reading most of his life and unfortunately was pushed through his elementary and secondary education.  As a result, he graduated from high school with an elementary-age reading level. It was hard for me to watch him struggle through high school, and it continues to be difficult to watch him struggle as an adult with something that may have been prevented with adequate support in his early years. I value the effort the United Way makes in helping our students excel and know that they are changing lives.  The United Way has made it so easy for me to support something that I truly believe in by connecting my donations, either monetarily or through volunteerism, to those that can benefit the most."
–Scott Klema
"I support United Way because I like that I can give to one place that I know will use that money to help the community wherever they see the greatest need. They are involved in so many areas that they really have great insight in to where resources are best utilized and what programs can really make a difference.  Also, it's really nice and simple to give using the payroll deduction."
–Aaron Pond
"I have been a contributor to the United Way of Salt Lake program for 26 years and a proud member of the Women's Leadership Council and Women United for approximately 8 years.  I truly support the entire dedicated board and staff for the amazing work they do for our community.  The education involvement for the under-privileged children is beyond words.  I love to hear the personal success stories from the young people that the program has helped. United Way of Salt Lake has supported us, here at CBIZ MHM, LLC for many years and I feel so good to give a small token for their dedication to our firm."
-Kathy Warner
"United Way of Salt Lake is an agent for social change focused on Collective Impact – bringing partners together in new ways to identify problems and develop lasting solutions. I joined the United Way of Salt Lake Women's Philanthropic Network in 2006 along with a diverse group of forward-thinking women making a commitment to educate, inspire and empower women to greater personal philanthropy. We started with an effort known as the Immigrant and Refugee Integration Initiative which provides resources for research, advocacy, scholarships, and other program grants. Over the past decade, we have come to be known as United Way of Salt Lake Women United. Women United raises dollars to support local educational initiatives. They are committed to creating equitable opportunities for all Utah women and girls through High School mentoring and tutoring, providing scholarships for first-generation high school graduates, and STEM learning opportunities in Title 1 schools.  Our goal is to help these young women in our community overcome incredible odds to achieve success in school and in life. I am proud to support the work of United Way of Salt Lake Women United. Supporting the educational achievement of girls and women in our community will help empower the next generation of women leaders."
–Mary Kay Griffin
Learn more about how we can help make Corporate Philanthropy easy for your workplace by visiting uw.org/for-companies