Goldman Sachs has always thought creatively about the systems in our community and how they impact those who live here.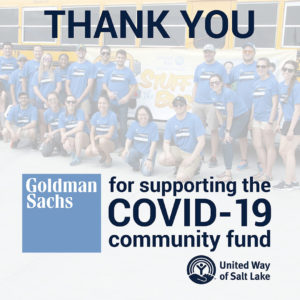 As a longtime partner of United Way of Salt Lake, Goldman Sachs has helped us pave the way toward more equitable outcomes for kids and families through efforts such as increasing access to high-quality preschool and much more.
During the COVID-19 pandemic, they've shown that same creativity and leadership through their major gift of $250,000 to the Utah COVID-19 Community Response Fund. Their gift is specifically focused on organizations working in Salt Lake, Davis, Summit, and Tooele counties.
"During the health crisis, it has become increasingly important for Goldman Sachs to support the communities where we live and work," said David Lang, partner and head of the Goldman Sachs office in Salt Lake City. "I am encouraged that through this partnership we will truly be able to help the people of Utah during this trying time."
The economic consequences of the COVID-19 pandemic are devastating to many low-income individuals and families across our state. The Fund provides flexible resources to organizations working with those Utahns who are disproportionately impacted by the ripple effects of Coronavirus.
Goldman Sachs has already made a significant impact through its gift to the Fund. Grants have been distributed to organizations focused on rental and housing assistance, healthcare access, and also domestic violence support.
Here are some of the specific organizations who've benefitted from Goldman Sachs' generosity:
• Catholic Community Services, to support refugee and immigrant individuals and families with rental assistance
• Fourth Street Clinic, to help Utahns access healthcare related to COVID-19 and other healthcare needs.
• Impact Mental Health, for their mental health support serving communities below the poverty level
• Jewish Family Services, for their housing and basic needs support work for those not eligible for the government relief programs
• Maliheh Free Clinic, for their work to help those who need access to healthcare related to COVID-19 and other healthcare needs.
• University Neighborhood Partners, which is providing groceries and cash cards to families in need.
• Salt Lake Valley COVID-19 Mutual Aid, which is also providing groceries and cash cards to families in need.
• YWCA of Salt Lake, for its support for families who have experienced domestic violence.
"Goldman Sachs has been an incredible partner with United Way of Salt Lake for more than a decade," said Bill Crim, president and CEO of United Way of Salt Lake. "From driving innovation in financing for early learning, to this incredible investment in COVID response, they have been with us and our community every step of the way."
This gift is just one way Goldman Sachs' generosity is on display during this time. They are also doing a 3 to 1 match for employee gifts to the Fund that are $25 and under and a small business stimulus package.
Goldman Sachs also brings their ideas and leadership into our partnership in many other ways too. Brian McCallion, managing director for Goldman Sachs, represents the organization on the UWSL Board of Directors. He is also a member of the Promise Partnership Regional Council, which is a group of cross sector leaders working with UWSL to create systems change in our community.
"We are proud to be a long-term supporter of United Way of Salt Lake, and to partner with them around critical needs—such as housing and healthcare services—that the community requires now more than ever," said McCallion said. "On a personal level, it has been incredibly meaningful to share in this support of the community during such a difficult time."
Thank you again, to Goldman Sachs, for your generosity and leadership during this crisis.
To learn more about the work UWSL and partners like Goldman Sachs are doing together to help people through and past the COVID-19 pandemic, visit uw.org
Grants from the COVID-19 Community Response Fund are awarded based on an application process to evaluate the highest needs of our community and an organization's ability to meet those needs. Applications are reviewed and grants awarded on a rolling basis and can be submitted at any time. To learn more about apply for a grant from the Fund, visit our website: uw.org/covid19-fund-grant-application/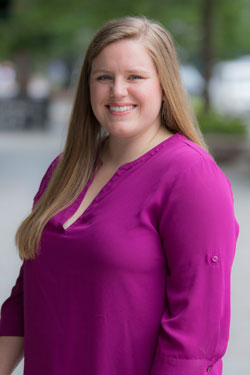 By Kelly Schmidt, Content Manager at United Way of Salt Lake