In August 2020, United Way of Salt Lake hosted the Reimagine Education Innovation Challenge. During the challenge, schools submitted plans for prioritizing students of color, English language learners, and students from low-income families in their back-to-school efforts. At the awards ceremony, six schools were selected as winners and were awarded $50,000 grants to support the implementation of their plans. Granite School District's Hillside Elementary was selected as one of the six winners for their plan which focused on deepening parent/teacher relations and better communicating Common Core standards. Read more about how family visits and communicating grade-level core values created more opportunities for students during the first semester of the 2020-2021 school year.
Family Visits
There is a consistent body of research that shows parents are the first and most important influence on their child's development and success at school—when parents are involved in their child's education, everyone benefits. With this in mind, Hillside Elementary created a plan to focus on authentic family engagement. As reported in Family Involvement in Education: How Important Is It? What Can Legislators Do?, "When parents are involved, students get better grades and score higher on standardized tests. What's more, children of involved parents have better attendance records, drop out less often, have higher aspirations, and more positive attitudes toward school and homework." It's clear that when parents and teachers work together, we can achieve so much more.
To foster this important family engagement, Hillside Elementary implemented home visits to create a deeper connection between teachers and families. Even with COVID-19 and the demands created by having both online and in-person classrooms, 196 teachers had visited 80 students by November 2020 for a total of 96 hours and 35 minutes.
Jodi Lusky, a Family Engagement Specialist from Granite District, stated that their school had more home visits than any other school that she was aware of, and one of those teachers said, "reaching out to families has been easier and they are more open to it than I thought."
Common Core Statements
Teachers and school staff set out to engage the families of their students with their academics, specifically math and language arts. They did this by sharing the most important "Common Core" curriculum standards with families in easy-to-understand language; this helped families understand what their students were learning in school and helped students stay focused on grade-level goals.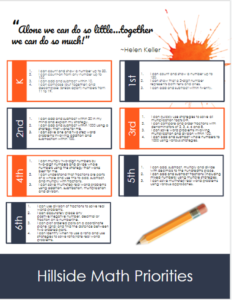 In Common Core, to make the most efficient use of learning time, the staff prioritizes the 3-4 most important statements and focuses on helping students master those before they leave that grade level. Based on the idea of Power Standards, teachers choose fewer standards with greater long-term impact. Each grade level came up with 3-4 math proficiency statements, listed as "I can" statements from the students' perspective. For example, in third grade, one math proficiency standard states "I can quickly use strategies to solve all multiplication facts 0-9."
To make the standards more accessible, 3×5 cards with the standards are placed on a ring with games for each standard, then manipulatives (concrete objects designed to help learners conceptualize abstract concepts) and cards are given to families so they can help solidify the math proficiency statements in a fun and enjoyable way. To keep priorities top of mind, grade-level posters hang in the classrooms and summary posters for grades K-6 are prominent when you enter the school.
"Sharing goals for student growth has increased parent involvement from home," says one teacher.
The Reimagine Education award has made it possible for teachers to have paid time during which they can conduct home visits, either on Zoom or safely distanced in-person, provided the resources for math games and math manipulatives, provided professional development for the teachers, and covered costs for printing posters and cards. These resources, which would not have been available without the grant, have greatly enhanced the engagement of their families in these educational endeavors. This spring Hillside Elementary will continue their work, identifying Language Arts Proficiency Standards for each grade.
Learn about the other recipients of the Reimagine Education Grant here.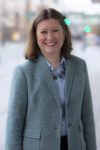 By Patti White, School Network Director at United Way of Salt Lake