The Grassroots Leadership Fellowship is a part-time program that inspires and supports local community members in taking a leadership role in building up their communities. They do this by facilitating conversations with residents about education and by working with them to develop initiatives to improve educational outcomes for students and families. During her fellowship with the Grassroots Leadership team, Naima Dahir organized a project on the experiences of students of color in Utah colleges and universities.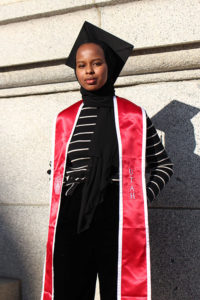 Name: Naima Dahir
Fellowship dates: July 2020 – December 2020
Background
After graduating from the University of Utah this past May, I began searching for a position that related to my major and would allow me to get exposure working in the non-profit sector. When I came across an opening at United Way of Salt Lake as a Grassroots Leadership Fellow, I had no idea what the position would entail, but I knew I was passionate about working in the community. I began my fellowship in the middle of the COVID-19 pandemic and I didn't know what community work would look like within this new virtual context. I quickly learned, however, that it would be made possible by utilizing virtual tools and adopting innovative thinking. In the six months I spent as a fellow, I was able to apply my personal experiences as a first-generation recent college graduate to develop a research project focusing on the experiences of students of color seeking higher education. I got to interact with university students of color in the research project to highlight their experiences, their access to resources and networks, and their post-graduation goals.
My Research Project
The inspiration for my research stemmed from my own experiences. As a recent graduate, I sought to understand if other students of color attending college in Salt Lake felt a similar sense of uncertainty and unpreparedness when they thought of life post-graduation. I felt that although this was a frightening transition for many students, it was especially new and nerve-racking for me and perhaps for other first-generation students of color who were the first in their families to navigate life post-graduation. I hoped that by doing this work I would be able to spread awareness and propose solutions to the disparities that students of color face in higher education and after graduation.
With these thoughts in mind, my teammate Maiyer Lor and I were able to utilize our personal experiences as first-generation students of color to lead a research project that we felt passionate about. Our research project was split into two main components: data collection and data analysis. Data collection consisted of virtual interviews with thirteen participants who were students of color attending a college/university in Salt Lake. Then we spent several weeks analyzing our data and organizing the information we collected into findings. Our findings related to the themes of diverse representation, reasons to attend college, and the post-graduation experiences of students. Finally, we were able to present these findings to the Post-Secondary Completion Initiative team of the Promise Partnership Regional Council and United Way of Salt Lake staff.
Read more about our research and findings here >
Advice for Incoming Fellows
Some advice I would give incoming fellows is to ask more questions, don't limit yourself because of the insecurity you may feel being in this new role, and to just enjoy the time you have with your coworkers because it will fly by. At the beginning of my fellowship, I was afraid to ask too many questions because I didn't want to be seen as incompetent or not fit for the position. I wanted to make a good impression and felt that if I kept asking questions people would catch on to my inexperience. I quickly realized that this mentality was a detriment to my growth and that asking questions was nothing to be ashamed of. It was only when I started asking more questions that I began to feel more comfortable in my role. And when I was more comfortable in my role, I was finally able to do justice to the research I was conducting.
Additionally, because of my inexperience, I originally didn't have the confidence to pursue a project on my own and I tried to adapt my research interests to fit into the ideas or interests of the other fellows. However, when my initial group all set off in different directions, I had to then pursue a project on my own. And although this transition was hard, I found this to be a moment where I could grow and develop my project on my own terms, following my own interests. I ended up working without the pressure of conforming my project to someone else's ideas and, consequently, it began to flourish.
My last tip is something that I have only recently begun to think about. My time as a grassroots fellow is ending, and I have been reflecting on the past few months. Because we've been working virtually, I couldn't fully get to know my coworkers in a way that I would have liked. If I could do it over, I would take more initiative to spend more time together. So I suggest you make the most out of the time you have with the other fellows because it'll be over before you know it.
To learn more about the Grassroots Leadership Program, visit https://promiseutah.org/grassroots-leadership/.
By Naima Dahir, Grassroots Fellow