Utah 211 provides accessible ways to connect Utahns across the state to the resources and services they need. This is especially critical during times of crisis like the COVID-19 pandemic.
By calling, texting, beginning an online chat, visiting the website, or searching via the 211 App, Utahns can get referrals to a variety of non-profit and government services. Learn more about 211, their resource database, and why it's a critical state service.
How Utah 211 Keeps Lives on Track Throughout the Year
Expert Information Referral
Information specialists are highly trained to identify the underlying needs of those calling 211. They not only work to ensure callers are connected to the right services, but also follow up to make sure they received the help they needed.
Resource Database Collection
Utah 211 maintains an online database of more than 10,000 statewide resource and service providers in both nonprofit and government sectors, which helps them provide callers with expert referrals to meet their needs quickly.
Partnership Building
A variety of resource providers have joined Utah 211 in strategic partnerships dedicated to working together to find innovative solutions that address the problems our communities face.
Needs Analysis
The 211 team tracks the services Utahns connect with so nonprofit organizations and government entities can funnel resources to help build their capacity to meet those needs.
211 Needs Report by Percentage
January 2020-December 2020
The information below shows the percentage of total referrals made in each health and human services category.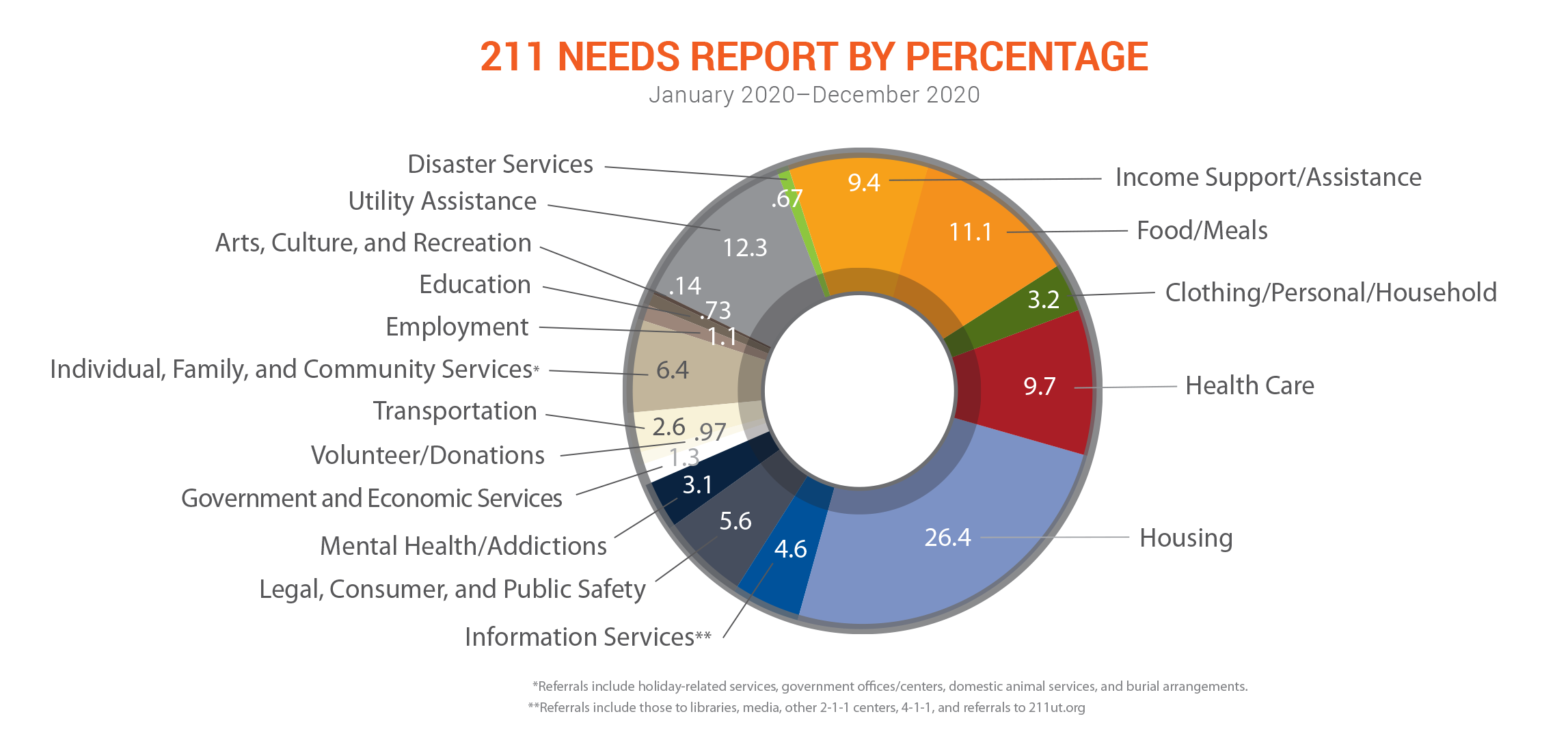 26.4% - Housing
9.7% - Health Care
3.2% - Clothing/Personal Household
11.1% - Food/Meals
9.4% - Income Support/Assistance
1.1% - Employment
6.4% - Individual, Family, and Community Services*
2.6% - Transportation
.97% - Volunteer/Donations
*Referrals include holiday-related services, government offices/centers, domestic animal services, and burial arrangements
.67% - Disaster Services
12.3% - Utility Assistance
.14% - Arts, Culture, and Recreation
.73% - Education
1.3% - Government and Economic Services
3.1% - Mental Health/ Addictions
5.6% - Legal, Consumer, and Public Safety
4.6% - Information Services**
**Referrals include those to libraries, media, other 211 centers, 4-1-1, and referrals to 211ut.org
How Utah 211 Supports the State, Specifically During Times of Crisis
211 is a Go-to Information Resource
Utah 211 plays a critical role in Utah's Emergency Management strategy. During a crisis, Utah 211 provides support to the State by becoming the general information line for the Departments of Health, Human Services and Workforce Services, the Division of Emergency Management, and critical nonprofits.
Trains Volunteers
Every year, Utah 211 trains more than 100 volunteers on how to take calls during an emergency. 211 team members travel across the state to train volunteers so they can handle the increased call volumes that occur during a crisis.
Maintains Resource Database
During emergencies like the COVID-19 pandemic, 211 keeps critical provider information–like hours of operation and services– up to date in its database, becoming experts on the most requested resources during any crisis.
As the COVID-19 pandemic began, an earthquake struck Magna and several areas across the Wasatch Front. Utah 211 not only met the increased need from the pandemic, but the earthquake as well. The 211 team quickly gathered information regarding power outages, damage support, and other needs created by the earthquake.
From January 1, 2020 to December 31, 2020, there was a 35% increase in call volume and an 82% increase in calls related to housing.
211 Needs Report
January 2020-December 2020
This report shows the number of requests by service type that 211 received in the last year.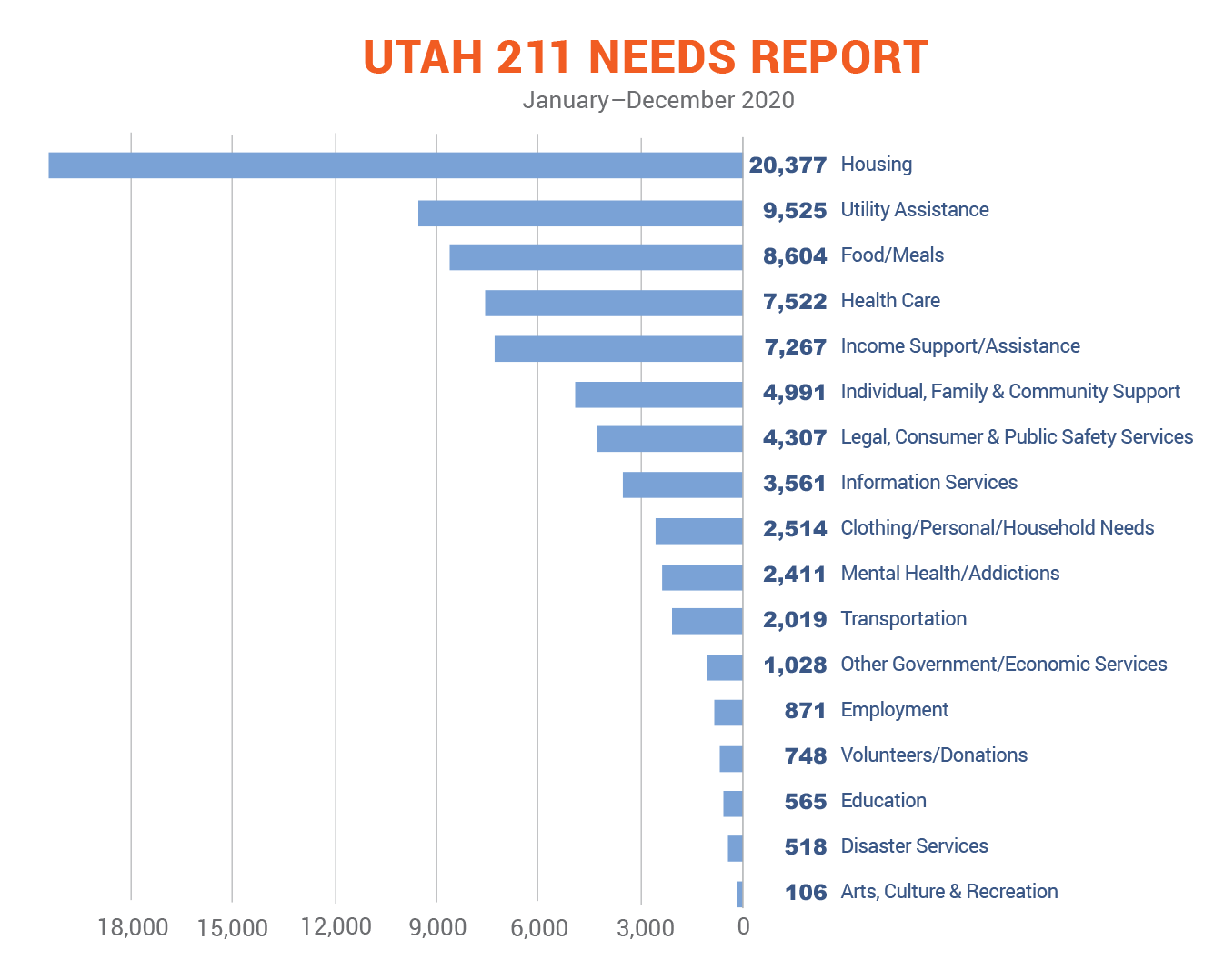 Number of Interactions by Quarter
Number of 211 App Searches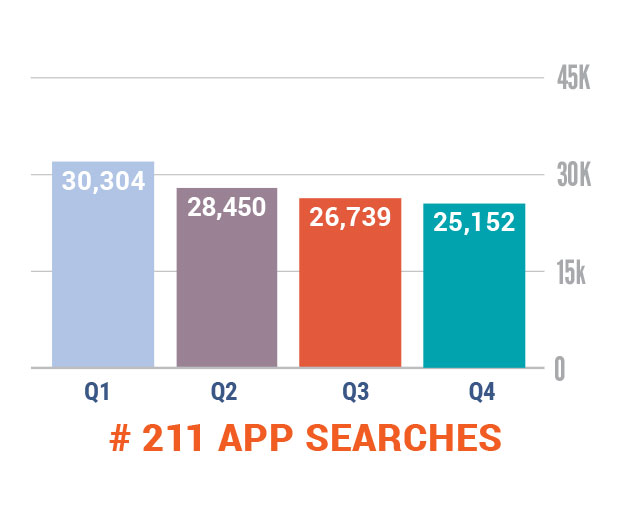 Number of 211 Web Sessions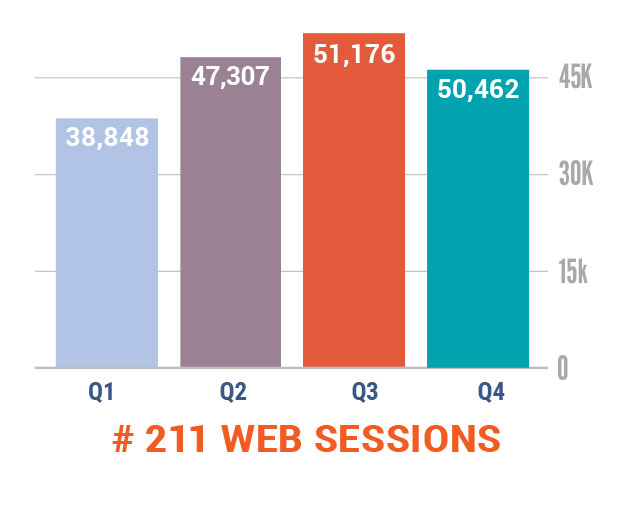 If you are in need of help, please contact 211 Utah by dialing 2-1-1 or using the resources on uw.org/211/211-contact-us/.
If you would like to support the work of 211, please donate here.