For Women's History Month, we're highlighting Women United members who are making waves in Utah and paving the way for the next generation. This week we're featuring Deborah S. Bayle. Bayle was the President and CEO of United Way of Salt Lake for 16 years. She transformed the way the non-profit operates to better partner with organizations and other non-profits in the area to have a wider impact on students in our community.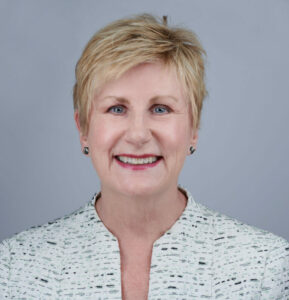 Deborah Bayle's high school job was at the United Fund in Ogden, the predecessor to United Way. She worked there after school and during summers. It was her start to a storied career creating change throughout Utah.
"My goal has always been to leave our community better than I found it," she says.
Bayle became the President and CEO of United Way of Salt Lake in September of 1999. Before being hired for the role, she served as COO for the Salt Lake Chamber of Commerce and the CEO of the Salt Lake chapter of the American Red Cross.
During her tenure at United Way of Salt Lake, she transformed how we work as an organization, putting an emphasis on strategic partnerships.
"Moving from a traditional United Way structure to one where organizations work together, collectively, to solve our most complex community issues, took a tremendous amount of expertise, time, tenacity, courage, and a willingness to change our entire business model," she says.
Twelve years after leading the shift to a more collaborative model, she was able to see that the community supported the change and the commitment to solving Salt Lake's complex inequities.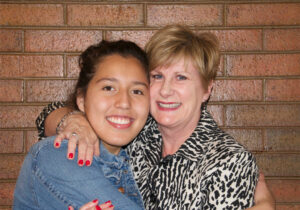 "One [moment in my career] that sticks in my mind is when I stood in front of a large group of our community's leaders on 12-12-12 at 12:12 p.m. and announced that we had been able to raise $12 million for our Changing the Odds Campaign," she recalls. "At that moment, I knew for certain that the tough decisions we had made, and the blood, sweat, and tears we had endured, had all been worth it and our community was standing beside us and supporting us. It was a validation of all we had been through, and all that we had accomplished."
Bayle was also instrumental in bringing Utah 211 onboard as a United Way of Salt Lake program in 2010, and ever since the program has been helping Utahns connect with services across the state to help with basic needs, health, and other needs.
In addition, Bayle helped create the Women United group, which was originally known as the Women's Philanthropic Network.
"In 2005, we made the decision to start an affinity group for women philanthropists," she explains. "Women's power has been under-represented through the years and we wanted to give women a strong voice in making their own philanthropic decisions and determining the issues that they felt strongly about."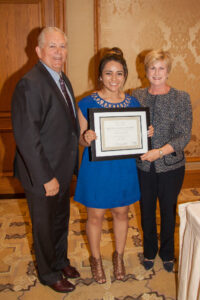 After her retirement in August of 2015, the United Way of Salt Lake Board created the Deborah S. Bayle Scholarship for Youth in Bayle's honor to recognize the contributions she made to the organization and the community at large, and it remains one of the primary causes the members of the Women United Donor Network devote their time and energy to supporting.
"I am truly honored and grateful to have had this program created in my name," she says.
The scholarship can be received for up to four years and is awarded to select students who have attended a United Way of Salt Lake community school and plan to attend a Utah college or university.
"The majority [of recipients] are the first ones in their families to go to college, and, in many cases, graduate from high school," she says. "Most of these students have overcome tremendous obstacles in their lives yet are totally committed to furthering their education and ensuring a better life for their families and their communities."
One thing is certain, Bayle is still passionate about the work United Way of Salt Lake does.
"I left United Way of Salt Lake in very good hands and am 100% committed to the ongoing work in which UWSL is engaged," she says. "It's in my DNA, and it is an honor and a privilege for me to continue to support United Way of Salt Lake in any way that I can."
And her advice for girls that want to become CEOs? :
"Research shows that many of the competencies that are desired for modern leaders are viewed as feminine, including being collaborative, intuitive, flexible, reasonable, etc. Women need to recognize they have leadership capabilities and have faith in their abilities," she says.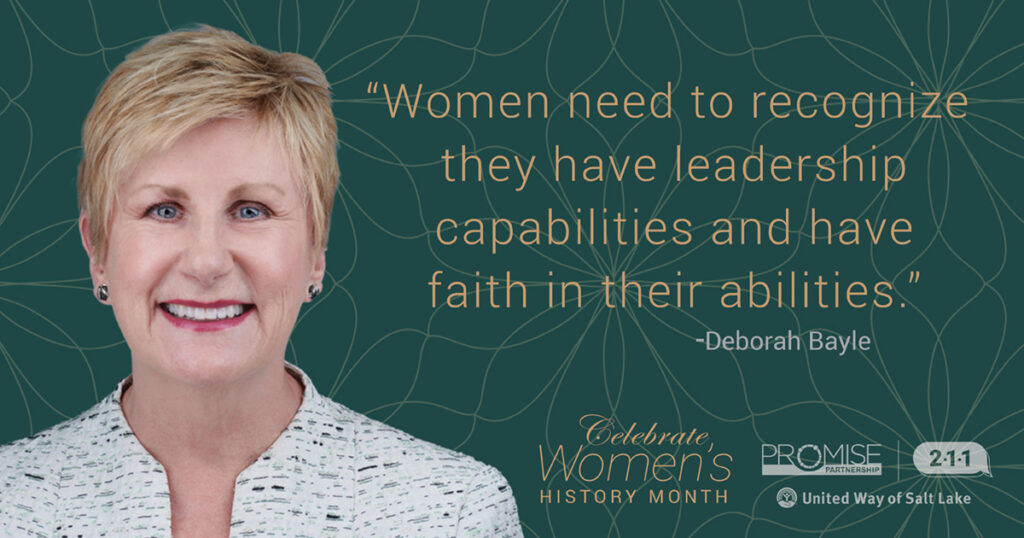 Learn more about the work Bayle did during her career in the blog Deborah Bayle Celebrates 15 Years at UWSL.
Become a member of Women United and support sending first-generation students to college at uw.org/women-united.