Highlights from Our Work in 2021
As 2021 comes to a close, it's the perfect time to look back on the important roles that partners, donors, and volunteers have had in supporting United Way of Salt Lake's vision of an inclusive future: one where everyone, regardless of race, income, or circumstance, has the same opportunities to benefit from and contribute to economic prosperity. Creating this future isn't quick or easy, but we're making significant progress, and we couldn't do it without our vibrant community, including you.
Before we move into 2022, we at United Way of Salt Lake want to highlight some of 2021's wins.
1. Two of Our Staff Members Were Honored by Utah Business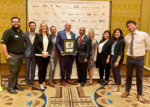 Part of the UWSL mission is helping everyone have the opportunity to thrive, and that includes our staff. In 2021, two of our outstanding executives were honored by Utah Business for their leadership and vision in guiding United Way of Salt Lake during a year of changes and challenges.
In May, Stacey Earle, our VP of HR & Administration was recognized and spoke about her hopes for the future of United Way of Salt Lake, saying, "I want to see a continued focus on creating space and opportunities for diversity in leadership positions. As Utah's population and economy grow and diversify, diversity in the workforce–especially in leadership positions–is essential to any company's long-term success."
In June, Danya Pastuszek, United Way of Salt Lake's COO, reflected on what success will look like as we move forward, saying, "To me, success looks like working with others toward a Utah where outcomes at a population level do not vary predictably based on race. Instead, it looks like more people in our amazing state making a decades-long, sustained commitment to equitable results. It looks like more people with lived experience of racism and poverty leading the work to transform systems. It looks like communities where everyone experiences feelings of belonging and joy."
2. United Way of Salt Lake Young Leaders Adopted Read Across America Day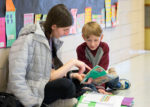 Spring brought exciting changes for the United Way of Salt Lake Young Leaders. The group voted to adopt Read Across America Day (RAAD) as their signature event and fundraising began in earnest. Now in its 23rd year, Read Across America Day is a nationwide celebration of reading. Originally celebrated on Dr. Seuss' birthday, events are now held throughout the week surrounding March 2nd — schools host events that focus on the importance of learning to read and the joy that comes with it, celebrate the diversity found in books, and recruit volunteers to read stories with new readers. Check out stats on how reading makes a difference, and maybe start a fundraiser of your own!
3. Stuff the Bus Collected School Supplies for 13,000 Students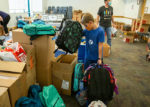 August 2021 saw a return to something like normal with our annual Stuff the Bus fundraiser taking place as a hybrid in-person/online event. Volunteers dropped off supplies, counted and sorted donations, and stuffed and delivered backpacks to 26 schools and eight community partner organizations. The event was expanded from a single day to a full week to allow for more volunteer time slots, minimizing the number of people gathered together at any one time. Online supply drives were hosted and generous donors helped us collect over 69,000 items to support Utah kids. Read more on our blog!
4. United Way of Salt Lake Furthered Conversations about Equity during the 2021 Speaker Series
The 2021 Speaker Series centered on the topic of Building Equitable Communities. Jim Shelton, former Deputy Secretary of the U.S. Department of Education, joined us virtually in March to share his thoughts on The Power of Place; you can read a recap and listen to the conversation here. In August, Hugh Vasquez, Senior Associate at the National Equity Project, joined us in person to discuss Transformative Leadership for Equity. Learn more and watch the presentation here.
5. 34 Companies Volunteered at Day of Caring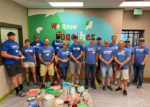 Day of Caring was back in September 2021! 34 companies and nearly 1,000 volunteers came together to work on service projects supporting the community's greatest needs; 34 companies adopted projects and UWSL connected 12 schools and 18 nonprofits across Salt Lake, Summit, Tooele, and Davis counties with volunteers who rolled up their sleeves to complete beautification work and encourage students with STEM, literacy, and college- and career-readiness projects. Learn more about this year's projects here.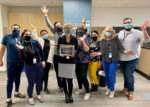 6. 211 Became AIRS accredited
The Alliance of Information and Referral Systems (AIRS) sets the standard for Information and Referral networks, ensuring a high standard of quality for networks that help individuals connect to the services they need. In October, 211 Utah received their certification, which shows they meet 27 standards, ranging from database quality to disaster resources.
7. Donors Supported Projects Benefiting 18 Schools at Season of Service
In November, we sent out the call to support our schools during our Season of Service. Community groups, business, and individuals helped us collect everything from 3,600 pairs of socks to 450 hygiene kits. You can read more about the incredible generosity shown by our community here. The astounding response meant we were able to make winter break cozier for students at 18 schools.
Thank You
United Way of Salt Lake is fortunate to have dedicated, generous, and passionate partners supporting our work. Visit uw.org/get-involved to be part of the change.
Catch Up on Blogs from the Last Year: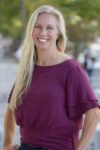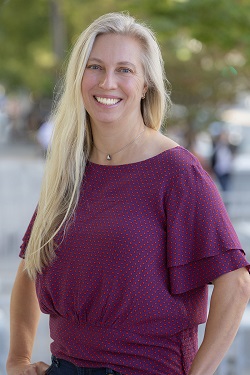 By Jessica Gezon, Senior Content Manager at United Way of Salt Lake